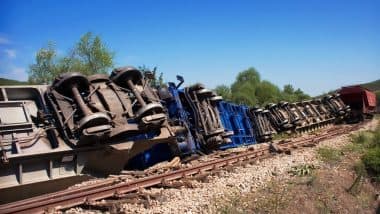 Train Accident (Photo: Wikimedia Commons)
Karachi, June 2: The death toll from a train crash in Pakistan's Sindh province on Monday rose to 622 on Tuesday. Opposition parties have stated they will not run in the by-elections, but will hold an immediate investigation into one of the country's worst train crashes. On Monday, the Sargodha-bound 'Milat Express' from Karachi derailed and fell on the front track, causing a head-on collision between the 'Sir Syed Express' coming from Rawalpindi to Karachi. The boats of Millat Express overturned due to the collision. The accident took place near Dharki town in Ghotki district of Sindh. At least two people were killed and more than 100 were injured in the crash, according to ARY News.
Zia News quoted Sukkur Divisional Superintendent of Railways Tariq Latif as saying that relief operations were over and the tracks had been cleared. The accident damaged 17 bogies, removing them and the engine from the tracks. "We have received orders to restore rail service," he said. Railway Minister Azam Swati said that the condition of railways in Sukkur division is bad. "We need to find the person responsible for this accident," he said, ordering a detailed investigation. Read more: Pakistan train crash: 51 killed, hundreds injured in train crash in Pakistan
Pakistan People's Party president Bilawal Bhutto has demanded an immediate inquiry into the train accident. He complained that train accidents have been on the rise since Imran Khan's government came to power in 2013. Many opposition parties, including the Pakistan Muslim League-Nawaz, Jamiat Ulama Islam Islam Fazl, have demanded a parliamentary debate on the incident.