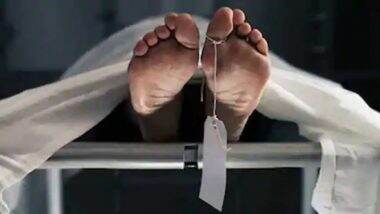 Symbolic image (Photo credit: Pixabay)
Lahore, June 2: A shocking development has taken place in Pakistan. A former security guard at a Lahore hospital called a doctor and operated on an elderly woman who had died. The incident took place at Mayo Hospital in Lahore, where 60-year-old Shamima Begum died on Sunday. Muhammad Waheed Butt, a former security guard at the hospital, treated the elderly woman. Mayo is a government hospital, where the administration is fleeing despite such gross negligence. Ignoring their responsibilities, the administration says they cannot monitor what every doctor or other person is doing at the hospital.
"We can't keep up with what every doctor and everyone is doing all the time," said a hospital administration official. It's a big hospital, interestingly, before the surgery, Begum's family was also paying security guards to visit their home and pay for treatment to heal the old woman's wounds. However, when the condition of the wound worsened and the bleeding and pain increased, her family took Begum to the hospital, where they learned what had happened. Read more: Madhya Pradesh: 3 killed in collision with bike truck of people returning from Betul's birthday celebrations
It is learned that Begum's body has been sent for autopsy to find out whether she died due to failed surgery. Police officers arrested the security guard and took him into custody. Lahore police spokesman Ali Safdar said the guard had been charged and was in police custody. It was further learned that Begum was not the only patient at home who was paying for her treatment. Butt introduced himself as a physician and visited other patients' homes, according to a Mayo Hospital staffer. Read more: Metrorail service resumes in Noida 39 days after Wednesday morning
Butt was fired two years ago for trying to extort money from patients, a Mayo Hospital employee said. Similar stories of security guards working in government hospitals as doctors and medical specialists have emerged from other parts of the country, especially the Punjab province. In May this year, a man was arrested at the General Hospital in Lahore for posing as a doctor and extorting money from patients. In 2016, a woman was arrested for pretending to be a neurosurgeon. The woman had been operating with qualified doctors at the Service Hospital in Lahore, the country's second-largest healthcare provider, for at least eight months.