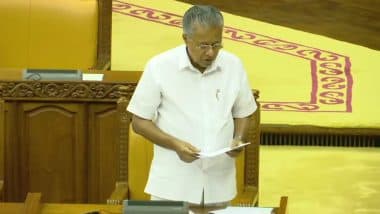 Chief Minister Pinarayi Vijayan (Photo Credit – ANI)
Pinarayi Vijayan Oth Ceremony: In Kerala, the CPM-led Left Democratic Front (LDF) government, led by Pinarayi Bijayan, will be sworn in on May 20 at the central stadium here. Vijayan told reporters that the swearing-in ceremony will be held on May 20 at 3.30 pm following the Covid-19 rules. Governor Arif Mohammad Khan will take oath of office and secrecy of 21 ministers including the Chief Minister.
According to Vijayan, the event will be held at the stadium with 500 invited guests, although the stadium has a seating capacity of 50,000. He said 140 newly elected MLAs, 29 MPs, the judiciary and state media representatives would also be invited to the event. Read more: Assembly Election Results 2021: Find out the final scores of Assembly election results held in 5 states, who is forming the government?
In an order, the government said entry to the swearing-in ceremony would be allowed and seating on and off the stage would be in accordance with the Covid-19 rule. You will only be allowed to get.
(This is a monitored and automatically generated story from a syndicated news feed, most likely not modified or edited by the latest staff)