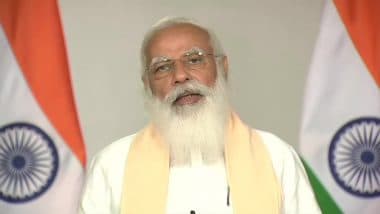 Prime Minister Narendra Modi (Photo credit: DD News)
Dehradun, 9 May Prime Minister Narendra Modi on Sunday spoke to Chief Minister Tirath Singh Rawat amid growing cases of Kroner virus infection in Uttarakhand and inquired about the epidemic situation in the state and expressed confidence in providing all possible assistance to the state. Chief Minister Rawat said on social media that Prime Minister Modi had taken information from him about the location of Kovid-19 in the state.
"I have apprised the Prime Minister of the current situation," he said. Rawat said the Prime Minister had assured Uttarakhand of all possible assistance. The Chief Minister thanked Prime Minister Modi for this. Read more: Assam: Himanta Bishwa Sarma becomes new CM of Assam, BJP legislature party decides
The condition related to corona virus infection in Uttarakhand has been serious for the last several days and the number of daily patients is being recorded at 7,000 to 9,000. On Saturday, 6,390 patients were confirmed infected on Saturday, and another 117 died of the disease.