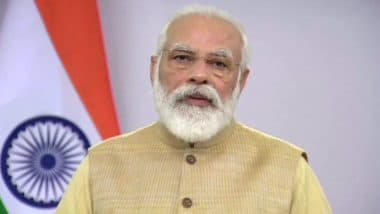 Prime Minister Narendra Modi (Photo Credit – ANI)
New Delhi, June 3: Prime Minister Narendra Modi on Thursday held talks with US Vice President Kamala Harris and discussed ongoing efforts and possibilities to further strengthen the Indo-US vaccine partnership and contribute to health and economic recovery after Kovid-19. After the talks with Harris, Modi said in multiple tweets, "I spoke to Vice President Kamala Harris a while ago. I appreciate the assurance given to India about the supply of vaccines as part of the US strategy for global vaccine sharing."
In another tweet, he said, "We also discussed ongoing efforts to further strengthen the Indo-US vaccine partnership and the possibility of a partnership between the two countries to contribute to health and economic recovery after COVID-19." Meanwhile, Simon Sanders, a senior adviser to the US embassy and a spokesman for Harris, said in a statement that he had talked with leaders of four countries, including Vice President Modi, about a global supply plan for the Covid-19 vaccine. The vaccines will be delivered to other countries in the world, including India, later this month.
We also discussed ongoing efforts to further strengthen Indo-US vaccine cooperation and the potential of our partnership to contribute to post-Covid global health and economic recovery.

– Narendra Modi (NarendraModi) June 3, 2021
Read more: Prime Minister Modi spoke to Class XII students, asking them to use the time after the exams were canceled
During talks with the four leaders, Harris said the United States would begin sending 25 million vaccines as a first batch. The delivery will be part of the Biden-Harris administration's plan to send at least 60 million vaccines to different countries by the end of June. The four leaders thanked the Vice President and agreed to continue addressing the challenges of COVID-19 in the global interest.
In addition to Modi, Harris has spoken with Mexican President Andres Manuel LaPage Obrador, Guatemalan President Alejandro Giamati and Caribbean Community President Keith Rawley.
During the conversation, Modi said that he was looking forward to welcoming Kamala Harris to India as the global health situation improves.
(This is a monitored and automatically generated story from a syndicated news feed, probably not edited or edited by the latest staff)