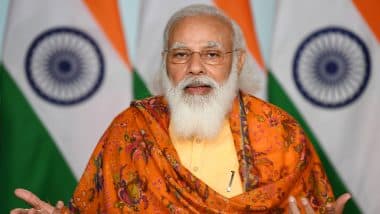 Prime Minister Narendra Modi (Photo credit: PIB)
New Delhi, June 11: Prime Minister Narendra Modi and his colleagues are meeting various parties in the Union Cabinet in the last two years to take stock of the work done by them. Official sources said on Friday. According to sources, so far three such meetings have been held at the Prime Minister's official residence, Lok Kalyan Marg. BJP president JP Nadda also attended the meeting. All three meetings lasted more than five hours. UP Politics: Chief Minister Yogi Adityanath's meeting with Prime Minister Modi ended, the conversation took about an hour.
BJP President JP Nadda and Home Minister Amit Shah were present at today's meeting. According to sources, a presentation was also made to the Prime Minister at the meeting. According to reports, Prime Minister Modi is meeting ministers in small groups and is also reviewing their respective ministries. The meeting was called after the number of cases dropped during the second wave of the Corona epidemic.
So far, for meetings of Ministers of Agriculture, Rural Development, Animal Husbandry and Fisheries, Tribal Affairs, Urban Development, Culture, Statistics and Program Implementation, Civil Aviation, Railways, Food and Consumer Affairs, Ministers of Water Power, Petroleum, Steel and Environment, and State Ministers. Was called. Sources said that such a meeting will continue for the next few days.
Earlier, UP CM Yogi Adityanath arrived at the PM's residence on Friday morning, where he had a meeting with Prime Minister Narendra Modi. The meeting between the two leaders lasted about an hour and a half. UP CM Yogi Adityanath tweeted after meeting Prime Minister Modi.
(Provide language)