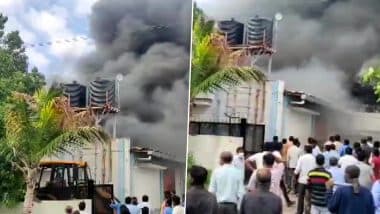 A massive fire broke out at an organization in Pune (Photo credit: ANI)
Mumbai: Of Maharashtra A huge fire broke out at a sanitizer factory in Pune district on Monday afternoon. Earlier, 12 people were killed in the blaze. At the same time, the number of burn deaths rose to 18. Gaya is still seriously injured there. The death toll could rise further. Most of the dead were women. Officials said this information. The incident took place at 11:30 am on Monday at a private factory in MIDC area near Pirangat village. The fire spread so fast that the factory workers did not even get a chance to escape.
Most of those who died died of asphyxiation. An official of the Pune Rural Police Control said the same number of people were missing and 10 were still trapped in the factory. Earlier, Tehsildar Abhay Chauhan said 11 people had been killed so far and relief work was in full swing. Read more: Maharashtra fire: Pune chemical plant fire, 12 workers burnt to death, 5 missing
Fire brigade and disaster rescue team from MIDC, Mulshi reached the spot. Witnesses say the male workers were able to escape after the factory caught fire. A part of the complex had to be bulldozed in an attempt to save people.