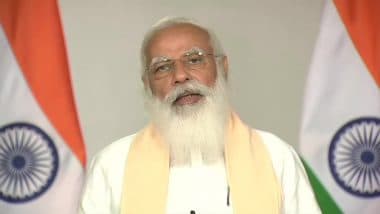 Prime Minister Narendra Modi (Photo credit: DD News)
New Delhi, 14 May Prime Minister Narendra Modi on Friday said that this time a record purchase of foodgrains has been made at the Minimum Support Price (MSP) and for the first time farmers in Punjab and Haryana have been able to deposit their crops directly into their bank accounts. Modi said this in his speech after releasing the eighth installment of the facility. Under the eighth installment, more than Rs 20,000 crore has been remitted directly to the accounts of beneficiary farmers through the world's largest direct cash transfer (DBT) project. Speaking on the occasion, Modi said that 10 per cent more wheat has been procured so far this year as compared to last year and Rs 56,000 crore has been transferred directly to farmers' bank accounts as a result of payment for these purchases.
At the event, organized via video conference, the Prime Minister spoke directly to a number of farmers who are doing new work in agriculture in different parts of the country. Modi said, "Farmers are selling products in mandapas and the money is going directly to their bank accounts. Farmers in Punjab and Haryana are getting the benefit for the first time. There is a lot of discussion on social media about the happiness we have reached. It is noteworthy that earlier in Punjab, farmers were paid to buy their crops through agents. Done. ALSO READ: Madhya Pradesh: Woman dies after being raped by coroner at a hospital in Bhopal, police question
Earlier, Modi released the 8th installment of Rs 19,000 crore under the Prime Minister's Kisan Fund to 9.5 crore farmers in the country. Under this, the government provides honorarium of Tk 2,000 every four months to the beneficiary farmers. A total of Rs 6,000 is transferred to the account of each beneficiary farmer every year. Inaugurating the program, Agriculture Minister Narendra Singh Tomar said that for the first time, more than seven lakh farmers in West Bengal have started benefiting from the project. He said the benefits of the project should be available to all farmers in the country as it has always been the government's effort. You said that since the inception of this project till date, Rs. 1.35 lakh crore has been provided under the Prime Minister's Kisan Samman Nidhi Yojana.