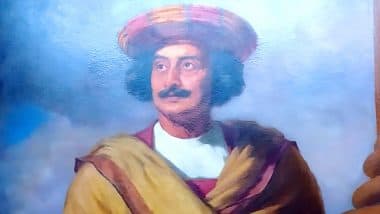 Raja Rammohun Roy (Photo credit: Wikimedia Commons)
In India, Raja Rammohun Roy has been identified as a pioneer of the social, educational and religious reform movement. He was vocal against the sati-marriage and child-marriage system, and campaigned. In addition, we are fighting for women's rights and their education. For his selfless social contribution, the then Mughal Emperor of Delhi, Akbar II, conferred on him the title of 'King'. Even today he is called the 'Father of Modern India'. The country is celebrating the 249th birth anniversary of this great hero today. Let's learn some interesting aspects about the life of Raja Rammohun Roy
Intelligent people:
Raja Rammohun Roy was born on 22 May 1772 in the village of Radha Nagar in the Hooghly district of Bengal to a Brahmin family. Father Ramakanta Roy was a Vaishnava and mother Tarini Devi. Rammohun Rai did his primary education in the village, but seeing his sharp intellect, his father sent him to Patna for higher studies. After that, he went to Benares (Varanasi) to study the Vedas and Upanishads. At the age of 15, Rammohun Roy was fluent in Hindi, English, Sanskrit, Persian, Arabic, Latin and Greek.
Read more- Uttar Pradesh: People of the East are enjoying the gift of CM Yogi Adityanath, in just 15 days about 15,000 people came to the zoo.
Never had a father or a son:
It is believed that the son receives these ceremonies from parents and society. But Raja Rammohun Roy may be an exception here. His father Ramakanta was a Vaishnava orthodox Hindu Brahmin. He preferred to follow a tradition of Tih and follow Tih, a tradition prevalent year after year, Raja Rammohun Roy was a staunch opponent of idolatry, orthodoxy, chastity and blind faith. Due to this, there was a dispute between the father and the son on the day he came home. Finally one day Raja Rammohun Roy left home. After his father's death in 1803, he returned to the country, but his thoughts did not change. The people of the house got married thinking that things would change with time, but Rammohun Roy was involved in social reform work all his life.
Support for Western culture and education system!
After intensive study of Vedas, Upanishads and Hindu philosophy in Varanasi, he started working in the Revenue Department of the East India Company. Here he had the opportunity to join John DGB as an assistant. He was greatly influenced by the progressive and modern ideas of Western Europe. He believed that the English education system was much better than the current education system. He emphasized reading English along with science, Western medicine and engineering. In 1822 he started a school based on English education.
Caliphate against social and religious evils:
Raja Rammohun Roy fully respected Hinduism, but openly opposed the religious and social evils prevailing in the society. Seeing that there was no mention of sati-method in the Vedas, he openly fought against sati-practice, child marriage. He enacted legislation against the practice of sati with the help of Governor General Lord William Bentick. He tried to change his mind by calling it a atrocity after going among the people. He organized a self-assembly in 1814 and sought social and religious reform in society. She campaigned for women's rights, including widowhood and property rights. He strongly opposed the introduction of sati and polygamy.
Read more: Google remembers arranging doodles on the death anniversary of the great Indian reformer and social reformer Raja Rammohunarai
Death!
The efforts of the popular Raja Rammohun Roy as the creator of modern India did not end with the practice of satidah alone. He was on a visit to Britain in November 1830 in the context of his movement. However, on 27 September 1833, he died near Bristol at the age of 61.