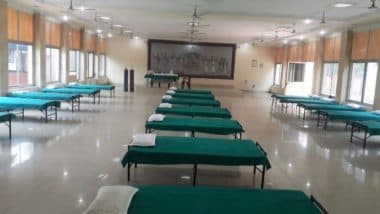 Corona Defeat (Photo Credit: PTI)
Jaipur: At least 21 people were killed after the bodies of Kovid victims were buried in a village in Sikar district of Rajasthan, whose bodies were brought from Gujarat without following any Kovid protocol. The incident was recently reported from Khevra village in Sikar, the assembly constituency of Rajasthan Congress chief and state education minister Govinda Singh Dotsar. The body was brought from Gujarat and about 21 people who came in contact with the body died after the funeral in the village, officials said.
According to officials, the infected body of Kovid was brought to the village on April 21 and more than 100 people attended the funeral without following Kovid's instructions. He said the body was brought out of a plastic bag and many people touched it while burying it. Read more: In the last 24 hours, there were 1752 new incidents of corona in Rajasthan, 160 people died
However, Laxmangarh sub-divisional officer Kulraj Meena said that out of 21 deaths, only 4-5 died as a result of Kovid-19. Meena told the media, "The other deaths are from the old age home. We have collected samples from 14 families where the news of the death was found to check whether the incident was broadcast to the public."
Meena and other officials visited the village with a medical team after receiving the report, instructing them to clean up the village immediately. Medication kits were also distributed to cure other infected people.
Sikar District Collector, Aviral Chaturvedi, said officials had visited the village and made people aware of the fact that all social ceremonies for the funeral should follow proper covid protocol. He said a door-to-door survey was also conducted to find out the real situation.