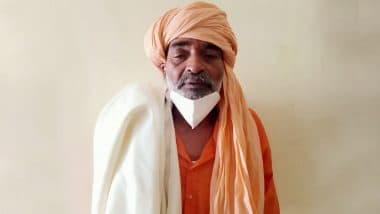 (Photo credit: Twitter)
Rajasthan police have arrested a fake ascetic father claiming to be a god. The name of the arrested Bhandu Tapasya's father is Yogendra Mehta. The 55-year-old father has been accused of raping four women. Three women from the same family complained that the ascetic father mixed marijuana in their ashram and gave them prasad and raped him. Vankarota (Vankarota) SHO Mukesh Chowdhury said Yogendra Mehta fled after an FIR was lodged on May 5 on behalf of the family. However, Jaipur police (Jaipur police) arrested him. Read more- Rape of minor daughter, arrest of accused fake father
The main victim in the case is a 45-year-old married woman, police said. They got married in 1999 at Bindayak Industrial Area in Jaipur. The 'complete deity' of his father-in-law's house is the ascetic father whose ashram is in Mukundpura. His family had been coming to his father's ashram for 25 years. Gradually Baba Yogendra Mehta took the throne of the ascetic and opened the ashram of the ascetic father. According to the victim, besides Mukundpura, Yogendra Mehta's ashram is also on Ratalya Sikar Road and Delhi Road.
Soon Yogendra Mehta began to describe himself as an ascetic father. The victim's family also started coming to the ashram. It was later found that eight to ten women lived in the ashram every night. The woman alleged that one day Yogendra Mehta called her to a room and gave her 'prasad' so that the drugs were mixed. Yogendra Mehta then raped the woman and later threatened not to tell anyone about it.
A woman living in the ashram with regular help has also accused Yogendra Mehta of collaborating in her activities. Two other women in the family have also been raped by Jogendra Mehta. When family members called Yogendra Mehta, he threatened to destroy him. Another female fan of Yogendra Mehta has also accused him of rape.