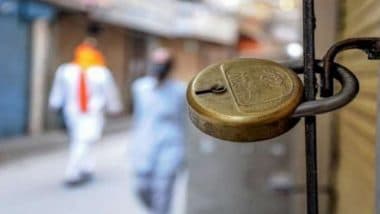 Lockdown Eye Symbolic Image (Photo Credit: PTI)
Jaipur, 23 May. A three-tier lockdown directive has been issued in the state cabinet meeting chaired by Rajasthan Chief Minister Ashok Gehlot on Saturday following suggestions to extend the Jan Anushasan lockdown by 15 days from May 24 to June 6. The cabinet recommended continuing strict measures such as lockdowns due to a slight reduction in the number of infections due to infection and mortality and high hospital pressure. Under the three-tier public discipline lockdown, social behavior at the family, ward, village, city and state levels is expected to change in accordance with the Covid Protocol. Understanding family responsibilities at the first level, people need to stop people from entering the house for some time. Read more: After India, America and Brazil, the Corona epidemic is facing severe deaths, with the death toll exceeding three lakh.
According to an official statement, it can be found by following a two-yard walk in the open if necessary, so that the elderly, children and other family members can stay safe. At the same level, effective control will be maintained over activities in and around the village that are at risk of spreading the infection. This will ensure that no more than 5 people will gather in any place.
ANI's tweet
Passengers from outside the state will be required to submit RT-PCR negative report within 2 hours. If a passenger does not submit a negative test report, the person will be separated for 15 days: Rajasthan Chief Minister Ashok Gehlot

– ANI (@ANI) May 23, 2121
Similarly, at the third level, the movement from one city to another, from city to village, from village to village and from village to village, except for medical emergencies and permissible departments, should be completely banned. Village level monitoring committees have to play a special role in this. Following these guidelines all the people of the state have to drastically change their social behavior. The chief minister said crowds at wedding ceremonies had become a major factor in the spread of the infection. In view of this, the marriage is expected to be postponed till June 30 on the advice of experts and public representatives.
He said the Kovid protocol should be included in people's behavior so that lockdown restrictions can be relaxed if the situation improves. He said it certainly causes some problems, but in the current situation of spreading the infection, it is necessary to impose these restrictions for the survival of the people of the state.
As per the guidelines, there will be a three-tier public order lockdown in the state from am on May 24 to 5:30 am on June 7. Fines for non-application of face masks or face covers in public places and workplaces have been increased from Rs 500 to Rs 1,000.
The market will be closed from 12 noon on Friday 26 May to 1 am on Tuesday, excluding the sale of dairy and milk shops, mandis, fruit and vegetable shops, flower shops and fruit and vegetable carts, rickshaws, auto rickshaws and mobile vans. June 5 and Friday, June 4 from 12 noon to Tuesday, June 8.
According to the guidelines, wedding ceremonies in the state should be postponed till June 30, 2021. During this period, no group meals will be allowed. In addition to medical services in the state, all types of private and public transport such as buses, jeeps, etc. will be completely closed. Buses, autos, tempos, tractors, jeeps, etc. will not be allowed for the procession. Internal and heavy vehicles will be allowed to transport goods, load and unload goods in this state and persons engaged in this work will be allowed.
There will be a complete ban on all types of vehicles in the state except for medical, other emergency and licensed departments, from one district to another, from one city to another, from town to village, from village to town and from village to village. .
To get vaccinated, people can go to the immunization site located within the boundaries of their place of residence, the municipal body or the panchayat association. At the same time, travelers from outside the state will be required to submit an RT-PCR negative investigation report within 722 hours. And if a passenger does not submit a negative investigation report, he will be sent to a separate residence for 15 days. Infection has improved in some districts. If the situation is rectified and effective public order is ensured, further relaxation of business activities in these districts can be given from next June.