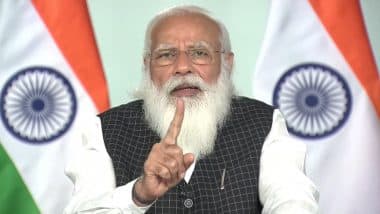 Prime Minister Modi (Photo credit: ANI)
Prime Minister Narendra Modi reviewed the progress of the country's Covid-19 vaccination campaign during a high-level meeting on Friday. Reviewing the situation of vaccine wastage in various states, Prime Minister Modi said that the number of wastage is still high and steps need to be taken to reduce it. During the meeting, officials briefed Prime Minister Modi on the current availability of the vaccine and the roadmap for enhancing it. Prime Minister Modi was also apprised of the efforts being made to assist various vaccine manufacturers to expedite vaccine production. Read more: Modi government controlled the second wave of Corona in a very short time: Amit Shah.
The Prime Minister's Office (PMO) said the government was assisting vaccine manufacturers to increase production units as well as supply raw materials and funding. The PMO said the Indian government was working closely with vaccine manufacturers and was assisting in setting up more production units, supplying raw materials and financing them.
Prime Minister Modi's tweet-
Reviewed the vaccination drive in India, including the steps taken to assist vaccine manufacturers and the need to further reduce vaccine wastage. https://t.co/qpHima3Cto

– Narendra Modi (NarendraModi) June 4, 2021
The PMO said Prime Minister Modi also took immunization status among people over the age of 45 and those aged 18-44 as well as health workers and first-line workers. Officials briefed him on various steps taken on the technical front to make vaccination more people-friendly.
Apart from Defense Minister Rajnath Singh, Home Minister Amit Shah, Finance Minister Nirmala Sitharaman, Commerce and Industries Minister Piyush Goyal and Information and Broadcasting Minister Prakash Javadekar, several other senior officials also attended the meeting, the PMO said.
So far,. 22.7575 billion worth of vaccines have been given
More than 22.7575 crore doses of corona vaccine have been given in the country so far, of which 33,57,71 doses were given on Friday. The Union Ministry of Health has given this information. The ministry said 1,260,602 people in the 18-44 age group were given the first dose of the vaccine on Friday, while 31,227 people in the same group were given the second dose.