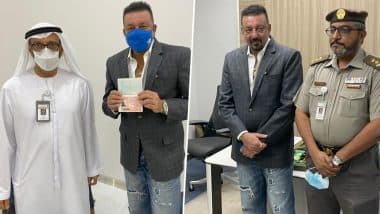 Sanjay Dutt (Photo credit: Twitter)
Mumbai: Actor Sanjay Dutt on Wednesday thanked the UAE government for granting him a Golden Visa from the United Arab Emirates (UAE). Sharing this information, Sanjay Dutt said, it is an honor to get a dignified visa. In the last one year Dubai has become my family. I am grateful to the Government of the United Arab Emirates for their never-ending support in this regard. The Golden Visa initiative of the leaders is truly far-sighted, it has helped make the country an investor-friendly country and I am sure it will continue in the years to come. Whenever they need me, I promise to help the country. Because our real purpose as human beings is to help each other grow.
The 611-year-old actor shared the news on social media. Sharing this information with the fans, Sanjay Dutt also shared his pictures, with which he wrote, I am honored to receive the UAE Gold Visa in the presence of Major General Mohammad Ahmed Al Armi, Director General of the hashtag GDRFUBY. Sanjay Dutt thanked Flydubai COO Hamad Obaidala for supporting the hashtag. Read more: This beautiful actress of the nineties hated Sanjay Dutt, kept posters at home
Sanjay Dutt's tweet:
Honored with UAE Gold Visa in the presence of Director General Major General Mohammed Al Marri GDRFADUBAI. With that to thank him uaegov For honor. Mr. Hamad Obaidullah's COO is also grateful to Mr. @ FloydBuy For his support pic.twitter.com/b2Qvo1Bvlc

– Sanjay Dutt (@DattaSanjay) May 26, 2021
Explain that the UAE government has implemented a new system for long-term residence visas, giving foreigners gold visas to live, study and do business in the UAE without a national sponsor. This initiative helps foreign investors and traders to take full ownership of their businesses in the country.
On the work front, Sanjay Dutt will now appear in films like Bhuj: The Pride of India, KGF: Chapter 2, Prithviraj and Shamsher.