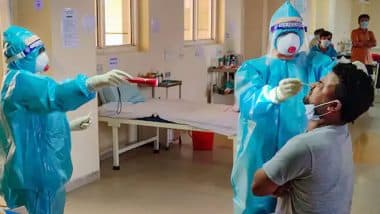 Coronavirus Outbreak (Photo Credit: PTI)
The Council of Scientific and Industrial Research (CSIR) India and Lakshai Life Sciences Pvt. These companies have received regulatory approval from the Drug Controller General of India – DGCI. Dr. Shekhar C. Mande, Director General, CSIR, expressed happiness over this decision. Wuhan Lab: Long ago, Indian scientists suspected that Wuhan Lab was leaked
This drug has also been tested many times from a safety point of view.
Through this test, the efficacy, safety, and tolerability of niclosamide in the treatment of hospitalized covid patients will be assessed through multiple points. Niclosamide has been widely used in the treatment of tapeworm infections in adults and children. This drug has also been tested several times in terms of safety and the dose has been proven to be safe for human use at different levels.
Kovid-1 will alleviate the problem of syncytia in the lungs of patients
Niclosamide is a generic and inexpensive drug, which is easily available in India and is available to the people of India. In this project, niclosamide was identified as a promotional drug by a research group at King's College London. Dr. Ram Bishwakarma, Advisor, DG-CSIR said
A) Synthesis or attached cells observed in the lungs of patients with COVID-19 may result from the fusogenic activity of the SARS-CoV-2 spike protein and inhibit the formation of niclosamide syncytia.
B) A joint study conducted separately by CSIR-IIIM, Jammu and NCBS, Bangalore recently proved that nicosamide inhibits viral entry through a potential SARS-Cavi2 entry inhibitor, pH dependent endocytic pathway.
Given these two separate experimental studies, Nicolamide has now emerged as a promising candidate for clinical trials among COVID-19 patients.
Niclosamide can be a cheap and effective alternative
Dr. Sreevari Chandrasekhar, Director, CSIR-IICT Hyderabad, highlighted that Active Pharmaceutical Ingredients (APIs) have been developed by Lakshi Life Sciences based on advanced technology in ICT and the lab is a participant in this important clinical trial. Prices can provide treatment options.
The trial began last year
Lakshai CEO Dr Ram Upadhyay said efforts to conduct clinical trials began last year considering the possibility of niclosamide. Following approval from the drug regulator, clinical trials have begun at various locations this week and are expected to be completed in 8-12 weeks. Emergency use approvals can be sought based on successful clinical evidence during clinical trials in Indian studies to provide more treatment options for Covid-19 patients.