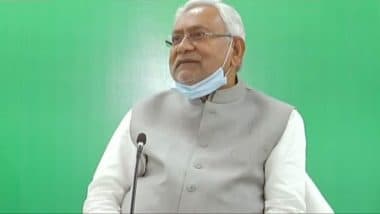 CM Nitish Kumar (Photo Credit ANI)
Patna, May 28: A total of seven people were killed in Bihar due to cyclone Yas, and moderate to heavy rains lashed most parts of the state on Friday due to the formation of low pressure areas. One person died in the cyclone in Patna, Darbhanga, Banka, Mungar, Begusarai, Gaya and Bhojpur. An official statement here said that Chief Minister Nitish Kumar has expressed grief over the deaths of the people. Kumar has ordered the immediate payment of Rs four lakh to their deceased ex-gratia.
The Chief Minister further directed that four persons injured in the cyclone of Begusarai and one each in Gaya and Bana should be given proper treatment. Kumar urged the people of Bihar to "take all precautions as per the warning issued by the Meteorological Department" and assured that efforts were being made to ensure uninterrupted supply of electricity and water and smooth flow of vehicles.
Also read- Country News. Bihar: Eight policemen have been punished for not firing during state honors
After knocking in Orissa and West Bengal on Wednesday, a severe cyclone Yas hit Jharkhand and Bihar from midnight on May 26th. Due to the cyclone, there has been moderate to heavy rainfall in most parts of the state. According to SK Mandal, an official of the meteorological office here, districts like Uttar Bihar have received about 200 mm or more of rain in Katihar and Saran.
Patna district has received more than 90 mm of rain since yesterday along with strong winds, which has resulted in heavy waterlogging in many areas, including major areas of the capital. The opposition RJD issued a statement accusing the Nitish Kumar government of "drowning" the city in the wake of heavy rains.
Also read- Country News. Bihar condemns BJP president Ramdev for commenting on allopathic treatment
The flight was disrupted on Thursday evening due to bad weather and resumed in the morning. The meteorological department also forecast light to moderate heavy rains in most parts of northern Bihar on Saturday.
(This is a monitored and auto-generated story from a syndicated news feed, most likely not modified or edited by the latest staff)