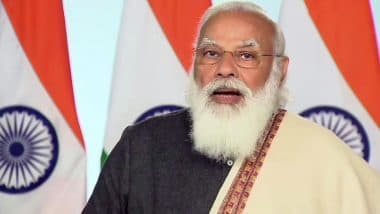 Prime Minister Narendra Modi (Photo credit: Twitter)
Mumbai, May 19: On Wednesday, the Nationalist Congress Party (NCP) asked why Prime Minister Narendra Modi was not visiting the cyclone-hit Tue-affected areas of Maharashtra while conducting aerial surveys of several storm-prone areas in neighboring Gujarat and Diu.
"Isn't this clearly discrimination," said Nawab Malik, a Maharashtra minister and national spokesman for the NCP. The cyclone claimed many lives in Gujarat before it hit late at night and affected many parts of Maharashtra, especially coastal areas.
An official said Prime Minister Modi arrived in Bhawanagar, Gujarat on Wednesday to review the post-cyclone situation and later went to Una, Diu, Jafarabad and Mahua for a flight survey. After the survey, the Prime Minister will hold a review meeting in Ahmedabad.
READ ALSO: Cyclone Tauk: Prime Minister Modi will visit Gujarat and Diu today to assess the damage caused by the cyclone.
Malik tweeted and asked, "Today Prime Minister Modi is conducting an aerial survey of the areas affected by cyclone Tout in Daman, Diu and Gujarat. Why not some of the affected areas in Maharashtra? Isn't this a clear discrimination?" Bikash Agadi is a part of the government.
(This is a monitored and automatically generated story from a syndicated news feed, most likely not modified or edited by the latest staff)