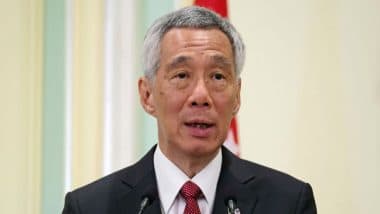 Lee Hsien Lung (Photo Credit: Twitter)
Singapore: Singapore's Prime Minister Lee Hsien Loong said on Monday that the deadly coronavirus would not be completely eradicated and would continue to infect people for years to come. Promising to reopen the country's borders, he asked the country's citizens to continue their lives in this 'new normal' situation. Addressing the nation on the government's Covid-19 plan, Lee said the Covid-19 epidemic would live with mankind and take on epidemic proportions.
"One day this global epidemic will subside," he said. However, I do not expect the end of Kovid-19. It will remain with mankind and take on a local shape. In the coming years, the virus will continue to spread to parts of the world population. This means that we will continue to see this disease in Singapore from time to time. Read more: War with Corona: Prime Minister Narendra Modi assures Singapore Prime Minister Lee Hsien Loong of all possible assistance
He said, "In this new normal situation, we have to continue living with the virus. Our goal is to keep the community completely safe, acknowledging the fact that some people can be infected by it at any time. As we do with the common infectious cold or dengue fever, we need to deal with them through public health measures and personal precautions. Also through regular vaccinations in case of infectious colds.
Lee says many countries are still fighting to bring the epidemic under control, or at the very least eradicate it. "If we deal with the Covid-19 situation here, the epidemic will continue to grow around us," he said. He said India now faces a huge number of new cases, although the number is now declining, although many countries in Southeast Asia have not launched large-scale vaccination campaigns and many of these will be reported in the coming months. You can see more.
(This is a monitored and automatically generated story from a syndicated news feed, probably not edited or edited by the latest staff)