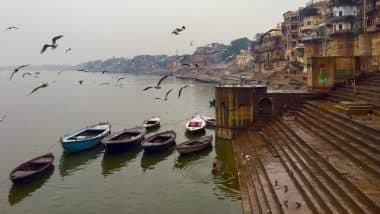 Photo credit ANI
Patna: The Bihar government said on Tuesday that a total of three bodies had so far been exhumed from the Ganges in Buxar district, adding that the coronavirus suspected patients were being carried into the Ganges river for possible funerals, fearing the possibility of a reign. On Tuesday, Water Resources Minister Sanjay Kumar Jha referred to the search for the bodies in the Ganges River near Chaisa village in Buxar district, saying the 4-5-day-old mutilated bodies had flown from a neighboring country to the state of Bihar in Uttar Pradesh.
He said that he was always concerned about the cleanliness and uninterrupted flow of the river Ganges as Chief Minister Nitish Kumar was suffering due to the huge number of bodies recovered and their flow in the river and asked the district administration to increase patrols on the river banks so that it does not happen again. "A trap has been set in the Ganges at Ranighat on the border of Uttar Pradesh and Bihar. We have advised the Uttar Pradesh administration to be vigilant. Our administration is also vigilant. Read more: Bollywood celebrities mourn bodies floating in Bihar's Ganges
Meanwhile, Boxer's sub-divisional officer, KK Upadhyay, said the bodies of two more people were found trapped in a stone trap at the border from Uttar Pradesh on Tuesday, whose janaza was being conducted at the border.
It may be mentioned that a large number of bodies were found in the river Ganga in Chausa of Boxer district on Monday.
Many news channels have claimed that the bodies include victims of the Corona, whose family members abandoned their bodies due to poverty and lack of resources, or government workers who feared they might become infected themselves and fled. On Monday, Chausar Block Development Officer Ashok Kumar denied that any of the dead were residents of Boxer district.
(This is a monitored and auto-generated story from a syndicated news feed, most likely not modified or edited by the latest staff)