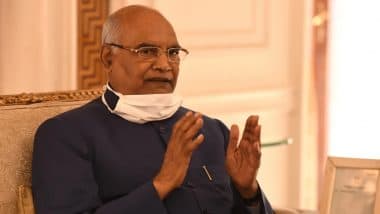 President Ramnath Kobind (Photo credit: Twitter)
New Delhi: A group of prominent people has written a letter to President Ramnath Kobind about the political violence in West Bengal. The letter blamed "state terrorism" for the political violence and called for a proper investigation under the supervision of a retired Supreme Court judge and for a speedy trial. Pointing to the "lax and inappropriate" attitude of the local administration and police towards "targeted political killings" after the West Bengal Assembly elections, he demanded that the cases be handed over to the NIA for investigation.
The letter said that West Bengal is a state bordering the international border, so these cases should be handed over to the NIA to deal with "anti-national" attacks on the country's culture and integrity. About 150 people, including retired judges, diplomats, bureaucrats, police officers and soldiers, submitted memorandums to the president on Monday. The memorandum states: "We are deeply concerned about the alleged violence of electoral retaliation against those who exercised their democratic right to vote in one political party or another." Read more: Political violence continues in West Bengal, BJP MP Arjun Singh's house bombed – TMC alleges
Citing media reports, he said dozens of people, including women, had died in more than 15,000 incidents of post-election violence in the state, resulting in the deaths of four to five thousand people in Jharkhand's Assam and allegations of relocation to Odisha. The BJP has blamed the ruling Trinamool Congress for the violence, but the TMC has accused the BJP of politicizing the violence. The state government has denied that there is widespread violence.
The memorandum submitted to the President includes former Chief Justice of Delhi High Court BC Patel, former Chief Justice of Bombay High Court Kshitij Bass, former Rob Chief Sanjeev Tripathi, former Punjab DGP PC Dogra and former Jammu and Kashmir DGP S. Vedic, signed.
(This is a monitored and automatically generated story from a syndicated news feed, most likely not modified or edited by the latest staff)