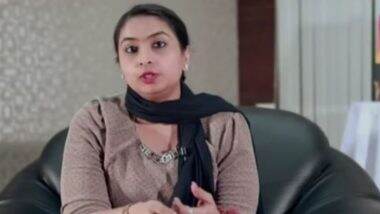 Swapna Patkar (Photo credit: Twitter)
Mumbai: Film producer Swapna Patkar was arrested on Tuesday on charges of fraud and forgery for obtaining a fake PhD degree in clinical physiology and using it for a job in a hospital. A police official said this information. Patkar (39), best known for producing a biopic Marathi film 'Balkadu' by Shiv Sena founder Bal Thackeray, released in 2015.
An FIR was lodged against him at the Bandra police station in suburban Mumbai on May 2, after which he was charged under sections 419 (fraud in disguise), 420 (fraud), 477 (fraud) and 486 (fraud with intent to defraud), the official said. Arrest. He said that he has been practicing as a Clinical Psychologist since 201 Band at a top hospital in Bandra (West).
The official said Gurdeep Kaur Singh, a 51-year-old social worker, had lodged a police complaint in April after receiving a set of documents related to Patkar's PhD degree in a sealed cover from an anonymous source. According to documents, Patkar's PhD certificate issued by Chhatrapati Shahuji Maharaj University in Kanpur in 2009 was in fact a forgery, he said. Read more: Maharashtra corona second wave biggest drop so far, 10,891 new cases in last 24 hours
The complainant was able to get an appointment as an honorary consultant at Patkar Hospital using fake degrees and treat people with mental health problems, the official said. He said that on May 26, Singh had contacted the Bandra police about the allegations against Patkar. He said further investigation is underway.
(This is a monitored and automatically generated story from a syndicated news feed, probably not edited or edited by the latest staff)