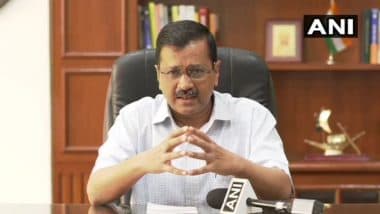 CM Arvind Kejriwal (Photo credit: ANI)
New Delhi, 26 May: Amid shortage of 19 Covid vaccines in Delhi, Chief Minister Arvind Kejriwal on Wednesday said that Sputnik V vaccine manufacturers would supply the anti-Russian Covid vaccine to Delhi but did not specify the dosage available. Kejriwal further said that there are about 2,020 cases of black fungus or mucorrhosis in Delhi and there is a shortage of use of amophericin-B injections in its treatment. "Negotiations are underway with the makers of Sputnik V," the chief minister told reporters. They will give us the vaccine, but it is not yet decided how many doses of the vaccine will be taken. Our officials and representatives of vaccine manufacturers also met on Tuesday.
Inaugurating the first Drive-in-Threat Vaccination Center in Delhi at the Dwarka Vegas Mall, the Chief Minister further said that the Center has asked the states to buy the vaccine from the international market, but no state government has yet added an additional vaccine. "All the state governments have tried their best. He has called for global tenders and talked to all the vaccine manufacturers. All the agencies have refused to talk to us," he said. Kejriwal said the vaccine should be given on the basis of war at the center. He said it was the responsibility of the central government to buy the vaccine.
Also read- Country News. Daily issues of Kovid-19 have decreased, lockdown has been observed: Jain
"Today we are fighting Kovid-19, where the center and the states have their respective responsibilities. The central government is shirking its responsibilities and asking the states to take action on their own. It is wrong," Kejriwal said. The war against India has been declared since then and they (the center) ask if Delhi has made an atomic bomb and what is the answer. The state bought the tank. The central government is responsible for buying and supplying the vaccine. If they give us the vaccine and we are not the vaccination centers. But they can hold Delhi accountable. "
Asked about the possibility of opening a lockdown in Delhi, the chief minister said, "The lockdown cannot be extended indefinitely. It has affected economic activities and business. We will decide how to reopen things." If the incidence of the virus continues to decline, his government will begin the unlocking process next week.
Also read- Country News. The rate of Kovid-19 infection has decreased by 9.42 percent: Ministry of Health
The Chief Minister said that vaccines made by Modarna and Pfizer are suitable for children and the central government should buy them to vaccinate their children.
(This is a monitored and automatically generated story from a syndicated news feed, most likely not modified or edited by the latest staff)