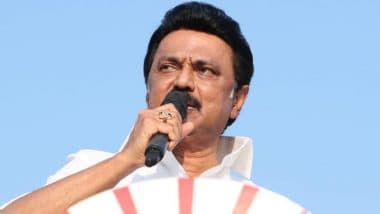 MK Stalin (Photo credit: Facebook)
Chennai, June 1: Tamil Nadu Chief Minister MK Stalin on Tuesday said the lockdown imposed to spread the coronavirus could not be extended indefinitely and should end soon, but it was up to the people to decide how to respond to COVID-19. -19 related guidelines. Stalin said there was no shortage of oxygen and beds in state hospitals. He said that in the last three weeks the government has made various efforts to improve the healthcare in the hospital.
He also appealed to the public to follow the instructions on Covid-19 to prevent the spread of the infection. The chief minister said the state has seen a decline in the number of infections in other cities, including Chennai, due to the implementation of a strict lockdown from May 24. At one time, the daily number of cases of Covid-19 in Chennai reached seven thousand, which has now come down to less than three thousand. Stalin said in a video message that everyone must understand that there is no alternative but a complete lockdown to prevent the spread of infection.
ALSO READ-Tamil Nadu: Two die, three fall ill due to illicit drinking
He said that the livelihood of a certain section of the society has been badly affected due to the lockdown, so the state government has provided the first installment of Rs 2,000 out of Rs 4,000 received under the Covid-19 assistance project. He said the lockdown, which was implemented to prevent the spread of the infection, could not be extended indefinitely and should end soon, but it was up to the public to follow the guidelines on Covid-19. '
The Chief Minister said that the pace of covid vaccination in the state has also accelerated and three lakh people have been vaccinated against covid vaccine in the last 24 hours. Every day, about 1.70 lakh samples of RT-PCR are being tested. Significantly, the lockdown was implemented in Tamil Nadu on May 10 with some exemptions, followed by the cancellation of all types of exemptions from May 24 and the entire lockdown. E will be effective until June.
(This is a monitored and automatically generated story from a syndicated news feed, probably not edited or edited by the latest staff)