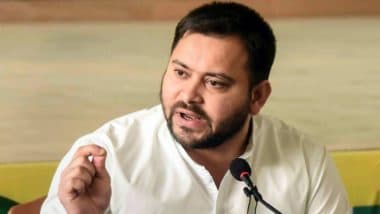 Tejaswi Yadav (Photo Credit: PTI)
Patna, May 20: Politics has now intensified in Bihar's Corona. On Wednesday, after a speech by RJD leader Tejaswi Yadav at the Covid Care Center at the government house, on Thursday, Tejaswi again came live on Facebook Live and sharply targeted the government. He complained that the government was not working on its own. Accusing the ruling party of engaging in negative politics, he said, "We provided beds, oxygen, food and medicine in our government bungalows and appealed to the government to accept them as per the rules, but the government is engaging in negative politics about it." The government neither works for itself nor allows us to do so. The real face of the government is now in front of everyone.
He said that there is no arrangement in Bihar hospital, people do not want to go to the hospital. Tejaswi said, "If the NDA government in the state was serious, the Covid Care Hospital could have been opened at the departmental level in a year. But the Bihar government has not been able to run it. Chief Minister Nitish Kumar is exhausted."
Read more- Bihar: Tejaswi Yadav did Covid Care Center at his official residence, JDU has tightened it further- You also have doctors in your house, why not hire them?
"There is no one to run ventilators in the state. I have been saying from the beginning that there is a shortage of doctors and health workers in the state, but the government has done nothing. The ruling party leaders are telling me to work. When I do, I call it a fantasy," he said. Former Deputy Chief Minister and Leader of the Opposition Tejaswi said most of the doctors across the country had died in Bihar, adding that the opposition was ready to help the government as much as possible, adding that the situation in Bihar was not good.
He hoped that Chief Minister Nitish Kumar and Health Minister Mangal Pandey would reply to their letter by evening. It may be recalled that on Tuesday, Tejaswi wrote a letter to the Chief Minister seeking permission from all the MLAs of the state to visit a hospital, PHC, Covid Care Center, etc. to visit patients and their families and provide relief to them. Them. The letter also sought permission to open the Covid Care Center and run a community kitchen.