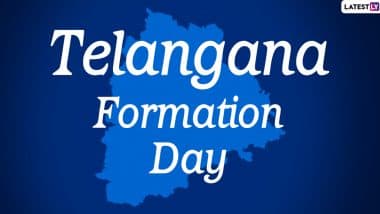 Telangana State Formation Day 2021 (Photo Credit: File Image)
When Telugu folk music brings nectar to our ears, when a person is mesmerized by the Oggu story, when Bonanalu dances in amazement and when reflections of the common culture of India begin to show, it should be understood that we are in Telangana. Celebrating the 7th founding day. The state was formed in 2014 after splitting from Andhra Pradesh. Read more: Prime Minister Modi congratulates Telangana State Day, says the state is blessed with a unique culture and hardworking people
Telangana has a history of five thousand years
The state of Telangana has a history of five thousand years. Turning the pages of the past, we see that the influence of different dynasties from the Kakatiya dynasty to the Mughal Empire remains in this kingdom. If we consider the mythological significance, Warangal is an important place in the state. In the twelfth century, the capital city of the Kakatiya dynasty also had a temple with a thousand pillars. The goddess Rani Rudramama (Rudramamba) ruled for a long time in the kingdom of Warangal. This place is associated with the events of Ramayana and Mahabharata. Later Mughal rulers also ruled the kingdom. Because of this, a great blend can be seen in the culture of Telangana today.
What does the word Telangana mean?
Telangana means the country where Telugu is spoken. The main language of the state is Telugu. This language belongs to the Dravidian family. 755 percent of the words in this language come from Sanskrit. Most of the people in the state use Telugu language. At the same time, being the official language, it is also used in official functions. Telugu medium is also taught in the school. Despite the predominance of Telugu, Urdu and Gondi dialects are also prevalent in the state.
Such is the geo-economic condition of the state
Telangana is bordered by Chhattisgarh, Maharashtra, Karnataka and Orissa. The Raj tree of the state is Jammi and the flower is Tangedu. The state is supplemented by agriculture and mineral resources. Cotton, mango and tobacco are cultivated. Turmeric is produced in large quantities in Telangana. At the same time, minerals like limestone, mica and bauxite are also found in the state. Adequate opportunities for education are available. Great educational institutions of medicine, engineering and fine arts are also located in the state. There are 119 assembly seats in the state and currently K. Chandrasekhar Rao is the Chief Minister of Telangana.
Telangana is a unique cultural region
Telangana is a unique culturally inhabited region. The state has made considerable progress in various fields such as dance, music, historical relics and literature. Banlu folk dance is famous in Telangana, the gateway to the Krishna and Godavari rivers. In this, dancers and dancers performed colorful costumes and dances in front of Gramdev Mahankali. This dance takes place in the middle of applause. Similarly, Oggu folklore is also prevalent in the state. It praises Hindu deities like Birappa, Yellama etc. Apart from this, a dance called Perini Tandavam is also performed in the state. Warangal Fort, Alampur Sangishwar Temple, Ramappa Temple in Palampet and Bhadrachalam are the main places of historical importance in the state. From a literary point of view, the Telugu language kingdom has the highest number of works available. Prominent literatures of the state include Pothana, Malliya Rishana, Mallinath Sori and C Narayan Reddy. Telangana is on the path of development in various spheres of society and ethnic life.