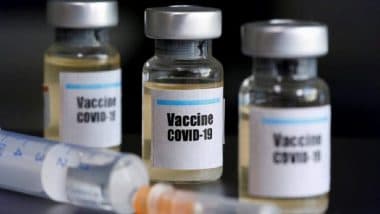 Coronary Vaccine (Photo Credit: PTI)
Varanasi, June 10: A 125-year-old man from Varanasi has received the covid vaccine, dispelling all doubts and rumors about the vaccine. On Wednesday, Swami Shivananda reached a vaccination center in Durga Kund and the medical staff was shocked to see his Aadhaar card. The date of his birth is mentioned in the Aadhaar card as 8th August 1896, according to which he is 125 years old.
Medical personnel were reluctant to give treatment, but Shivananda had no hesitation. He insisted on Jab and got his first dose. Shivananda, a resident of Kabir Nagar Colony in Velupur area, reached the vaccination center alone to get a job. He waited at the center for half an hour and later got the vaccine and went home. Shivananda told reporters that the reason for his longevity was "normal diet and regular life". ALSO READ: COVID-19 UPDATE: Retail sales of passenger vehicles fell 59 percent due to COVID-19: FADA
He said, "I get up at three in the afternoon and go for a swim in the river Ganges. Then I do yoga. I eat very simple or very simple food with oil and spices. I come from a very poor family and to this day I have never had a full diet. I eat half of it. Doing so reminds me of my humble background. "Shivananda does all his own work and does not seek the help of any family member. She is now looking forward to taking her second dose next month.