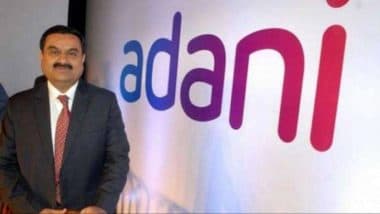 Gautam Adani, (Photo credit: YouTube)
New Delhi: Adani Green Energy said on Wednesday that its unit AWQTL has launched a 150 MW wind power project in Gujarat's Kanch district. The project was launched nine months ahead of schedule. Adani Green Energy told the stock exchange, "Adani Wind Energy Kachchh Three Ltd (AWEKTL) has launched a 150 MW wind power project. It was launched nine months ahead of schedule. Agency
According to the company, this is the sixth project in the last 12 months that has been launched ahead of time.
The project has a 25-year power purchase agreement (PPA) with the Solar Energy Corporation of India (SECI). AGL has signed a contract with the project for a total operational renewable energy capacity of 5,075 MW at a cost of Rs 2.28 per unit (KWH). It has the capability of wind power projects. 647 MW. The company has set a target of setting up 25,000 MW of renewable energy capacity by 2025.
The company is working on a total renewable energy potential of 24,294 MW. These include acquisitions and projects in which Ezel has become the lowest bidder. With this 150 MW, AGEL added 2,525 MW to the total operating capacity during the COVID-19 epidemic, of which 1,750 MW was achieved through acquisitions, the statement said.
(This is a monitored and automatically generated story from a syndicated news feed, probably not edited or edited by the latest staff)