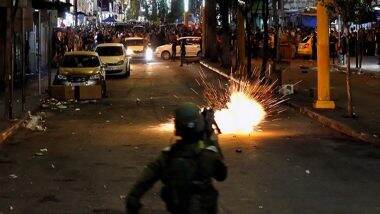 Israel-Palestine Conflict (Photo Credit: ANI)
Outrage against Israel has been seen in social media and newspaper articles through street protests, with several Gulf states, including the United Arab Emirates, signing agreements to establish relations with Jewish countries. Analysts say the conflict will also push Israel's efforts to reach an agreement to normalize relations with other Arab countries, such as Saudi Arabia. Gulf Arab states have condemned the violence. The people here are also openly condemning the rights of the Palestinians and condemning Israel.
Abu Khaleq Abdullah, a political analyst in the UAE, said the UAE had recently called on all parties to immediately stop fighting, saying the statement that Israel should have been branded an aggressor should have been somewhat harsher. Bahraini social organizations have called on the government to expel the Israeli ambassador.
Also read- Foreign News. The heat of the conflict between Israel and Hamas has reached children
Protesters have rallied in Kuwait. Hundreds of people were allowed to protest over the weekend in Qatar, where a top Hamas leader delivered a speech. In the UAE, people have publicly expressed support for Palestine on social media.
Last year, the UAE became the first Arab country to establish relations with Israel in more than two decades. Bahrain, Sudan and Morocco have also announced relations with Israel.
(This is a monitored and automatically generated story from a syndicated news feed, most likely not modified or edited by the latest staff)