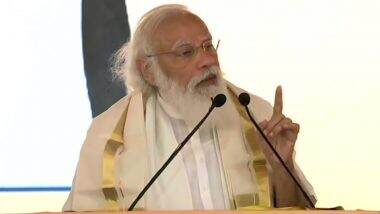 Prime Minister Modi (Photo Credit – ANI Twitter)
New Delhi: The removal of Article 3 from Jammu and Kashmir is the second major achievement of the Narendra Modi government. This has come to the fore in the statistics of ATBP-C voter Modi 2.0 report card. According to the ABP-C voter survey, 44.4 per cent respondents said that repealing Article 3 was the biggest achievement of the Modi government, and 23.7 per cent believed that the Supreme Court decision on the Ram temple was the biggest achievement.
A total of 1.99 lakh people were interviewed in 543 Lok Sabha constituencies. This survey was conducted from 1 January to 20 May 2121. The survey found that people are supporting the government in the lockdown. 68.4.4 per cent of the people said that last year was the right decision to implement the nationwide lockdown. Read more: JP Narada in Article 3P0: BJP President JP Nadda says – Prime Minister Modi has met the demands of the people of Jammu and Kashmir for 70 years
Similarly, 53.4 per cent people said that not making a nationwide lockdown this year was the right decision of the Modi government. However, 41.6 percent of respondents expressed their support for the Central Vista project. The people have supported the Modi government's decision to start and continue this project during the Corona period.
Also, public opinion about the operation of the vaccination program has been divided. 44.9 percent said that the government has managed the vaccine in the country properly, and 43.9 percent people do not feel that way. The decision to export the vaccine also received widespread support, as 44.7.9 per cent supported the government's decision to export the vaccine.
In addition, 51 per cent people said that the repeal of Article 370 in Jammu and Kashmir has resulted in a permanent solution to the complex problems of Jammu and Kashmir. Similarly, 59.3 per cent said the situation in Kashmir has improved in the last two years.
The government's foreign policy has also received widespread support. Of the 2.3 per cent people in the country, India's relations with various countries of the world have improved under Prime Minister Narendra Modi. However, 41.9 per cent people supported the farmers 'movement and said that the farmers' demand for repeal of the three new agricultural laws should be accepted by the Center.