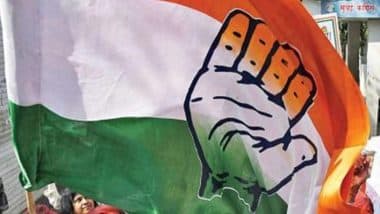 Congress (Photo credit: PTI)
Ahmedabad: The Congress on Wednesday claimed that more than 27,000 people had died due to Kovid-19 in the state, in contrast to the Gujarat government's death toll of more than 9,000. He demanded that all their families be compensated four lakh rupees.
Earlier this month, the state government denied allegations that Kovid-19's death was on-reported. The Congress had demanded a 'white paper' on the exact number of deaths in Gujarat in the last one year due to coronavirus and other causes.
According to the latest official data, 9701 people have lost their lives in the state so far. State Congress president Amit Chavda told reporters that the party had launched an online campaign for two weeks to collect death information from Kovid-19 since the epidemic broke out. Through the form 'news of the death of his relatives was received and about 10,000 forms came to the Congress office.
"It shows that more than 227,000 people have lost their lives in Gujarat so far," Chavda said. About 22 percent died at home and more than 77 percent died at the hospital. They were probably caused by a lack of oxygen or the absence of ventilators. The Congress leader said, "We will submit these forms to the government for verification. The government should conduct a survey.".
We want the government to pay four lakh rupees to the families of all those killed. There is a provision in the Disaster Management Act in this regard. Chief Minister Vijay Rupani has denied allegations that the state government is hiding something related to deaths due to the coronavirus.
(This is a monitored and automatically generated story from a syndicated news feed, most likely not modified or edited by the latest staff)