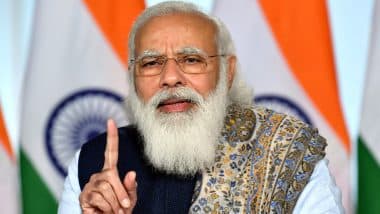 Prime Minister Narendra Modi (Photo credit: PIB / File photo)
New Delhi: The prevalence of coronavirus second wave is decreasing in India every day. Meanwhile, Prime Minister Narendra Modi addressed the nation today (June) and again during the unlock, appealed to the public to be cautious about Covid-19. He said Corona was the biggest epidemic in 100 years. The country is still fighting the coronavirus. At this point, he warned the public about the possibility of a third wave of corona. After Corona, many people suffered from skin diseases, herpes and hair loss.
The Prime Minister has addressed the nation several times since the outbreak of the Kovid-19 global epidemic last year. He advised the people at this time and informed them about the steps taken by his government to deal with the situation. The Prime Minister has also made new announcements many times in his speeches.
Prime Minister Modi addressed the nation on April 20 during the second wave. He then appealed to the states to use the lockdown as a last resort. However, due to increasing cases of infection and oxygen crisis, lack of ICU beds, etc., the states had to resort to restrictions like lockdown.
Since the last day of May, corona cases in the country have been seen to be under control. Now even in the hospital there is no fight over beds like before. Where three to four lakh new Kovid-19 patients used to come every day, now this number has come close to one lakh. A total of 1,00,666 new cases of coronavirus were registered across the country on Monday and 2,4227 infected people died. During this time, 1,74,399 patients have recovered from the epidemic and have been discharged.