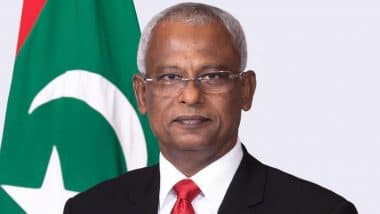 Ibrahim Mohammed Solih (Photo Credit: Facebook)
Male, May: Nasheed was injured in an explosion near his home on Thursday and is being treated at a hospital in the capital, Male, police said. Home Minister Imran Abdullah told a local TV channel that Nasheed was not injured. He is the current Speaker of Parliament and the first democratically elected President of the Maldives from 2008 to 2012. President Ibrahim Mohammed Solih said in a televised speech on Friday that Australian federal police investigators would arrive in the Indian Ocean island on Saturday.
Neither Solih nor the police gave any further information about the attack and no one has claimed responsibility for it. Pictures on social media show a damaged motorcycle at the scene. Indian Foreign Minister S Jayashankar in a tweet called the blast an attack on Nasheed. Jayashankar said, "I wish him a speedy recovery." I know he will never be afraid. Nasheed was President of the Maldives from 2007 to 2012. Read more: US White House: US to deploy additional troops to Afghanistan for military security
He lost the next presidential election, and after being sentenced to prison, he was disqualified from running until 2013. His teammate Ibrahim Solih won the 201st presidential election.
Nasheed, 53, was elected Speaker of Parliament in 2012 and continues to be an influential political figure in the country. The Maldives is known for its luxurious resorts. In 2007, 12 foreign tourists were injured in an explosion at a park in Male.