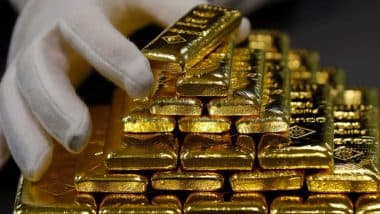 Gold / Symbol Photo (Photo Credit: Facebook)
New Delhi: In the midst of the second wave of coronavirus, India's foreign exchange reserves have steadily strengthened despite uncertainty surrounding economies across the country. Despite economic pressures, the country's foreign exchange reserves have reached an all-time high. By the end of the trading week ending May 27, the country's foreign exchange reserves had reached a record high of পর্যায়ে 598.165 billion. According to the Reserve Bank of India, the country's foreign exchange reserves reached a record high of $ 96.1665 billion. The country's foreign exchange reserves increased by 2.5271 billion dollars this week, compared to 2.592.694 billion dollars in the previous week. The RBI has not changed its policy rate, announcing various measures to help the economy
The country's economy has been badly damaged due to the corona infection. Almost all indicators of the economy have been declining over the past year. Industrial activities have almost come to a standstill. Similarly, domestic demand has declined significantly, but India's treasury in terms of foreign exchange reserves is getting stronger.
It is noteworthy that the calculation of Foreign Currency Assets (FCA) is officially done in US dollars, including the dollar as well as other international currencies such as Euro, Pound, Yen.
The country's gold reserves have also become stronger
Along with strengthening foreign exchange reserves, the country's gold reserves have also strengthened. The country's gold reserves also rose to ৮ 36.106 billion, according to data released by the Reserve Bank of India on May 26. In the last one week alone, gold reserves have risen by about, 2,500 million.
Gold Reserve / What is Gold Reserve?
Gold reserves are gold by a national central bank (central bank) for the purpose of redemption of promises to pay depositors, note holders or business associates. Gold is also used to save value or to support the value of the national currency.
What is Forex Reserve?
Foreign exchange reserves are funds or other assets held by the central bank of any country so that it can repay its obligations when needed. This national currency is issued only by the central bank. These reserves are held in one or more currencies. Most currencies include the dollar, the euro and the yen (up to a few percent). Foreign exchange reserves are also called forex reserves or FX reserves.
India's foreign exchange reserves increased due to foreign exchange reserves
Releasing a report by the Reserve Bank's Monetary Policy Committee on Friday, RBI Governor Shakti Kant Das said the country's foreign exchange reserves have increased due to the rise in foreign exchange reserves (FCA). The FCA rose in the first trading week of June. However, the official figure will be available next week. Nevertheless, this increase in the FCA is expected to increase the foreign exchange reserves from the current level (8 898.165.1 billion) to more than ০০ 600 billion.
The current strong position of the foreign exchange reserves will prove to be extremely helpful for India's economic development in the days to come. This is because the economic and business activities of the country will increase further as the corona infection decreases. At such a time, the foreign exchange reserves will prove to be very helpful in uninterrupted import of essential goods from abroad.