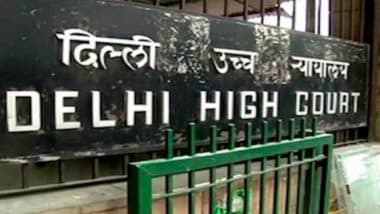 Symbolic image (Photo credit: PTI)
New Delhi, June 3: The Delhi High Court on Thursday directed the Delhi government to collect information about children who were orphaned during the CVV-19 epidemic and in crisis due to the death of their parents or both. A bench of Justice Vipin Sanghi and Justice Jasmeet Singh said, "Not only are children being harmed by the death of a parent or two, they are also in a painful state." The government will contact all residential welfare societies, police stations, schools, anganwadi workers and hospitals to get information about children of parents whose parents have died in one or both of them, as directed by various departments in Delhi.
It directed the Principal Secretary (Health), Delhi, to report all patients to the hospitals here without delay, especially within one day from the date of death, in the Department of Women and Child Development, where one or both of the parents died. The bench held a six-hour hearing on the matter. It states that just as birth or death certificates are required, states are required to collect information about orphaned children and to keep this information confidential by law. Advocate Prabhasai Kaur, appearing for the 'Save the Children Movement' NGO, said the court had directed that there was a lack of complete information on how many children were orphaned during the epidemic.
Read more – Country News | Appeal to Delhi High Court to stop covaxin test on children
He said that the Delhi Commission for the Protection of Child Rights had given one or 433 children in Delhi who had lost them or their parents, while the Child Welfare Committee had given information about 15 such children. Rashmi Singh, a senior Delhi official, told the court that there were many families who were not ready to give details of their children. Appearing on behalf of the government, senior advocate Rahul Mehra said they were formulating a policy to provide ex-gratia amount to orphans.
(This is a monitored and automatically generated story from a syndicated news feed, probably not edited or edited by the latest staff)