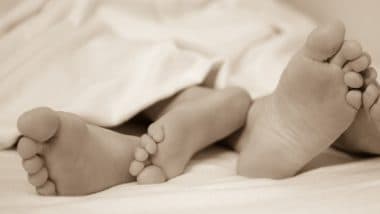 Photo Credit: Pixabay
Marie Le-Mar, 38, was convicted on March 15 last year for three years and six years, including being naked and stepping on the victim's bed, kicking a police officer in the chest and assaulting him after drinking too much alcohol. According to the prison victim for several months, he was sleeping separately from his wife because of the snails, he woke up in the dark when the incident happened. He thought he had a wife, after which he tried to drag her away, informing prosecutor John Farmer that the victim was apparently trying to have sex but he fell into bed, then realized he had no wife. ALSO READ: Kerala: 3 36-year-old woman rapes 9-year-old child, case filed
He was fast asleep, when he woke up, he turned on the light and realized that the woman was drunk and completely naked. The victim informed his wife, who immediately called the police. During the court hearing, it was learned that Miss Le-Mar was away from her partner for a few days and threatened the victim not to open her mouth. The court was told that he strongly opposed the arrest and beat up a police officer at the scene. Camera footage alleged that he was kicking the officer in the chest with bare feet.
During questioning, Le-Mar said he did not remember the incident, but later admitted to sexually assaulting the man without his consent. Le Mar's lawyer, Derek Johsen, defended that Le Mar's life was very difficult and that he had never sexually abused her before. She has no sexual attraction to this man. He can't say why they did it. " He is 38 years old and has never committed a sexual offense before, he is not a hunter. All of this happened because of alcohol consumption, he was not aware. ALSO READ: Madhya Pradesh: A woman cut the genitals of a man who tried to rape her
The judge then said that 'sexual offenses against men are no less serious than sexual offenses committed against women, the law contains gender neutral conditions for achieving equality. 'The crimes committed by Le Mar are not forgivable, so they were sent directly to prison.