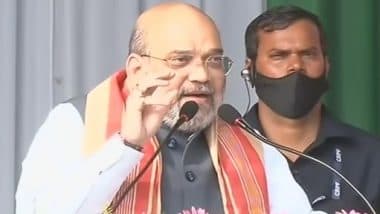 Home Minister Amit Shah (Photo Credit: ANI)
New Delhi, June 3: On Wednesday, Home Minister Amit Shah inaugurated nine oxygen plants set up by Vallabh Youth Organization in Gujarat through virtual media. This time, Amit Shah said that the virus started to change its form very quickly in the second wave of corona and it had a bad effect on human health. He said that in a very short period of time, the Modi government had succeeded in controlling the second wave. Home Minister Amit Shah said that if we analyze it, the system has been found to be deteriorating even in the developed countries of the world, but inside India there was a fight against it under the leadership of Prime Minister Narendra Modi.
In the second wave, many people lost their loved ones and many had to stay in the hospital for a long time. Expressing sympathy to the families of those who lost their loved ones in the second wave, the Home Minister said that he prayed to God to give strength to the bereaved families for the loss.
Read more – Country News | Amit Shah assures that draft law will not be finalized without consultation with local people: MP Faisal
Amit Shah said that in this catastrophe, the way forward workers, doctors, nurses, voluntary organizations and volunteers have forgotten their interests and the way they have worked for the society and the sick people and for the poor, they want to thank everyone. It is because of them that this fight has reached this stage.
Shah said many voluntary organizations across the country have contributed to what they can do. As the workers were returning to their homes, thousands of voluntary organizations made great arrangements to get them food, water, shelter, and transport to their destinations. The government could not do this alone.