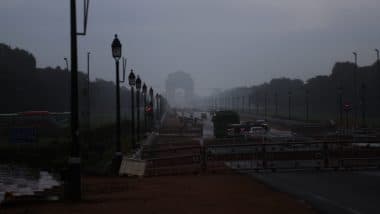 Monsoon (Photo Credit: IANS / File)
New Delhi, June 11: In the national capital, Delhi, the monsoon this year could be 12 days ahead of the normal date, i.e. June 15. The Indian Meteorological Department (IMD) said this on Friday. Kuldeep Srivastava, head of the IMD's regional forecasting center, said the rains had reached Delhi on June 15, even in early 2008. He said, "There are conditions for the early arrival of the monsoon. This time it (monsoon) may reach Delhi on 15th June.
The IMD said a low pressure area remained over the north-west Bay of Bengal. It is likely to move to Orissa, Jharkhand and northern Chhattisgarh in the next three to four days. "Due to favorable weather, the south-west monsoon is expected to cover the entire country except the glass region of southern Rajasthan and Gujarat in the next five to six days," the IMD said.
Read more – Kavid-19: In the last 24 hours, 236 new cases of corona have been registered in Delhi, 24 people have died
Srivastava said that in order to announce the arrival of rains in a region, three factors are considered in detail, the first is the possibility of rainfall over a wide area, the second is the possibility of rain for the next three to four days and the third is the possibility of winds to the east.
According to Mahesh Palawat of Skymet Weather, a private weather forecasting agency, the monsoon in 2013 reached all parts of the country by June 16. By June 29 last year, the monsoon had reached across the country.
(This is a monitored and automatically generated story from a syndicated news feed, probably not edited or edited by the latest staff)