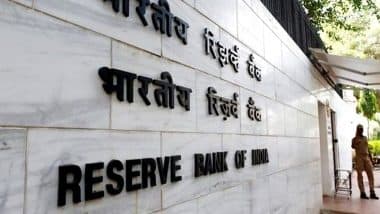 Reserve Bank of India (Photo Credit – PTI)
Mumbai: The second wave of the Covid-1p epidemic (certainly affected economic activity in the first half of the first quarter of the current fiscal year, but did not weaken). However, the number of victims is much higher than before. This is stated in an article by the Reserve Bank of India (RBI). It said the pace of the corona virus epidemic had taken India and the world by surprise. To curb this pace, the campaign has been conducted on a war footing. Read more: Good news on the economic front in the ongoing war from Corona, GDP growth will be 10.5% in 2021-22
Regarding the state of the economy, RBI Deputy Governor MD Patra and other officials wrote in their article, "The impact of the second wave on the economy seems to be more limited than the first wave. 'Lockdown' at the local level as needed , Online delivery models, e-commerce and digital payments are good examples of this work.
The RBI has made it clear that the views expressed in the article do not necessarily match the views of the authors and those of the RBI. According to the article, sanctions imposed in many states to curb the rapid growth in infections have led to light indicators of the real economy in April and May. The second wave was faster in the metropolis than the first wave. It spreads rapidly in states, regions and rural areas.
According to the article, "the second wave certainly affected economic activity in the first half of the first quarter of 2020-21 but did not weaken it … the overall demand situation was affected but that impact was not as severe as the first wave." Not stable. " But the trend shows that the impact on the pace of the economy is not as severe as last year.
According to the article, "The biggest impact of the second wave has been the push for demand – in terms of movement, cost of thinking and lack of employment." Apart from this, product stocks have also been affected. Although overall supply has been affected. It said the e-way bill for domestic trade fell by 17.5 per cent in April 2021 on a monthly basis.
Also, manufacturers of basic equipment for passenger vehicles reported a decline on a monthly basis in April. There has been a slowdown in movement and passenger movement. According to the article, the U-shaped position of the English letter is visible from the conversion. It has agriculture on one shoulder and other IT people who stand firm with the storm. It states that the UK has one opera equipped and automated production, while opela has services that can be provided in remote areas and producers and consumers do not need to go around.
According to the article, the most vulnerable positions in the UK are 'workers' (workers in places like factories, workshops, showrooms) and law enforcement doctors and health workers, municipal workers and small business people who live and work every day Unorganized) who have to take risks for their livelihood. For the people of this region, assistance through policies should be a priority.
(This is a monitored and automatically generated story from a syndicated news feed, most likely not modified or edited by the latest staff)