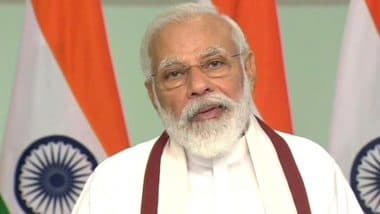 Iconic image (Photo credit: ANI / File)
New Delhi, June 3: The government said on Thursday it had provided 2.7 million tonnes of free food grains to about 5.5 million people in May as part of a plan to provide relief to people in the second wave of the epidemic. This distribution was done through ration shops. In addition, 1.3 lakh metric tonnes of wheat and rice were provided to 26 million beneficiaries in June under the Prime Minister's Poor Welfare Anna Scheme (PMGKA). Food Secretary Sudhanshu Pandey said this while talking to a media. Giving information about the implementation of PMGKA scheme, he said that the states and Union Territories have so far received from the Food Corporation of India (FCI) and3.67 lakh tonnes (about 60 per cent of the total allocation under the scheme for May and June). ) Depot. Have taken more food.
Under this scheme, the central government is distributing free food grains for two months (May-June 2121). It is distributing foodgrains per kg per month to about .39.39 crore beneficiaries under the National Food Security Act (NFSA). About 6 million tons of food grains will be distributed under the project. This distribution is being made on and beyond the regular allocation of beneficiaries under the existing Food Act. "In May 2021, about 5.5 crore NFSA beneficiaries and about 2.3 lakh tonnes of NFSA beneficiaries were distributed about 2.7 million tonnes of foodgrains," Pandey said.
Read more – Country News | The central government should take responsibility for vaccination, the current situation 'state vs. center': Jagan said in a letter to the chief minister
According to him, as of Thursday, 90 per cent of food grains had been distributed in May and 12 per cent in June 2021 under the National Food Security Act. Under this, more than Tk 13,000 crore has been subsidized in May and June. More than Rs 9,200 crore has been subsidized in both the months under the Prime Minister's Gana Kalyan Anna Yojana.
(This is a monitored and automatically generated story from a syndicated news feed, probably not edited or edited by the latest staff)