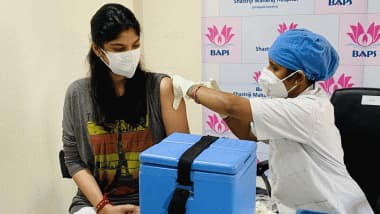 Corona Vaccine (Photo credit: Twitter)
New Delhi: Serum Institute and Bharat Biotech have submitted their production plans to the Center over the next four months amid reports of shortage of COVD-19 vaccine in several states. Official sources said on Wednesday that they would increase their production to 100 million and 8.8 million doses, respectively, by August. Sources said that the Union Ministry of Health and the Office of the Drug Controller of India had asked the two companies to plan their production for June, July, August and September. India Biotech says Delhi cannot give extra dose of Kovacin: Sisodia
The Hyderabad-based India Biotech is producing home-grown covacin and the Oxford-AstraZeneca covshield is being produced by the Pune-based Serum Institute of India and these two vaccines are currently being used to promote vaccines against the coronavirus.
It is believed that Dr V Krishna Mohan, full-time director of Bharat Biotech, has informed the government to increase the production of covacin to 3.32 crore in July and 7.22 crore in August, which will remain the same in August-September.
Similarly, Prakash Kumar Singh, director of government and regulatory affairs at the Seram Institute, said production of Kovishield would be upgraded to 10 crore drugs by August and would remain at the same level in September, official sources said.
In a letter to the Ministry of Health, Singh said, "We are confident that the amount will be met in any case. Also, we are trying our best to use all the resources of Kovishield to increase our production capacity. Can go. "
Rajneesh Tingal, joint-secretary of the Department of Medicine, an inter-ministerial group led by Dr Mandeep Bhandari, joint secretary in the health ministry, visited the production centers of both the Seram Institute and Bharat Biotech in April. The group was formed to facilitate the production of vaccines at the domestic level.
Several states and Union Territories, including Delhi, Maharashtra, Karnataka and Telangana, have decided to accept global tenders for the purchase of the Canona anti-virus vaccine as domestic demand has dwindled due to growing demand.
Meanwhile, Delhi Deputy Chief Minister Manish Sisodia on Wednesday said that India Biotech had informed the Delhi government that they could not supply "extra" doses of Kovacin to the national capital.
The Ministry of Science and Technology said in a statement on April 1 that the production capacity of domestically developed cocaine will double by May-June 2021 and will increase by about six to seven times between July and August.
(This is a monitored and auto-generated story from a syndicated news feed, most likely not modified or edited by the latest staff)