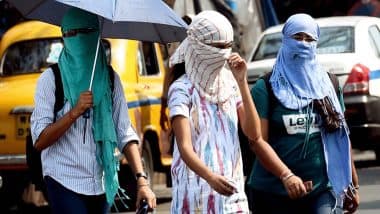 Summer | Iconic Image (Photo Credit – PTI)
New Delhi, June 10: The heat wave continued in Delhi on Thursday morning and the minimum temperature was recorded at 31.4 degrees Celsius, four degrees above normal. Officials at the India Meteorological Department (IMD) said the maximum temperature was expected to be close to 41 degrees Celsius.
The relative humidity level was recorded at 47 percent till 8:30 am. Meteorologists have forecast strong winds during the day. Delhi's air quality was recorded in the 'weak' category on Thursday morning. The Air Quality Index (AQI) was recorded at 8:50 a.m., according to data obtained by the Central Pollution Control Board. Read more: 11 killed, including eight children, in Mumbai house collapse
An AQI between zero and 50 is considered "good", 51 to 100 is considered "satisfactory", 101 and 200 are considered "moderate", 201 and 300 are considered "moderate". An AQI between "poor", 301 and 400 is considered "very" weak, and an AQI between 401 and 500 is considered "severe." Monday's highs and lows were 42.2 degrees Celsius and 26..6 Degrees Celsius has been recorded.