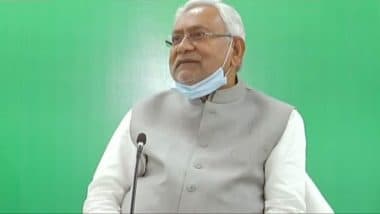 CM Nitish Kumar (Photo Credit ANI)
Patna: In Bihar, people between the ages of 18 and 44 are now waiting for the coronavirus vaccine to run out. The Bihar health department said on Saturday that vaccinations for people aged 44 to 44 in the state would start from Sunday, May 9. The department claimed that Bihar had received the required dose of vaccine. Corona Bihar remains a wonder, with 12,948 new cases in the last 24 hours
The Bihar Health Department tweeted through its official Twitter handle, "The state has received about 3.5 million doses of the corona vaccine. Vaccination will start from May 9 between the ages of 18 and 44." The department said that registration is mandatory for this.
The corona vaccination for 18- to 44-year-olds will start in the state from May 16 (Sunday). pic.twitter.com/ZA1pQS27Te

– Mangal Pandey (@MangalPandeBJP) May 8, 2021
Here, state health minister Mangal Pandey also tweeted from his official Twitter handle, writing, "3.5 lakh doses of coviculated vaccine have reached Patna for vaccination for 18-year-olds. According to the chief minister, the vaccination should start from Sunday in the state." Earlier, Chief Minister Nitish Kumar had said that all people above the age of 18 would be fully vaccinated free of cost.