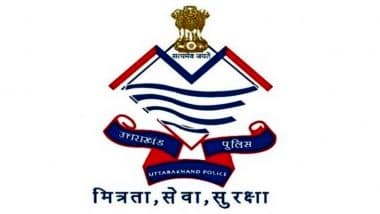 Uttarakhand Police (Photo Credit: IANS)
Dehradun, June 11: Uttarakhand Director General of Police Ashok Kumar said on Friday that 13 state police personnel have died so far in the fight against Kovid-19 infection. A moment of silence was observed at the state police headquarters here to pay homage to the police personnel who lost their lives while on duty in the first and second wave of Covid-19.
At the ceremony, the Director General of Police said that eight soldiers were killed in the first wave of Kovid-19 and five soldiers were killed in the second wave. "His service to the needy in times of crisis can never be forgotten," he said.
Read more – Kavid-19: 267 new cases of corona in Uttarakhand, 21 killed
Kumar said that although more policemen were affected by the epidemic during the second wave, they were safe in most cases due to vaccination.
He told police members to secretly vaccinate their closest relatives against Covid-19 as soon as possible and be prepared to deal with a third wave.