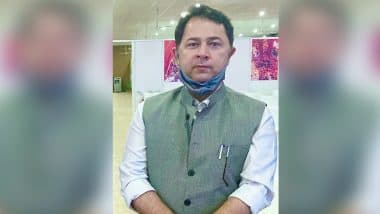 IAS Ranbir Singh Chauhan (Photo Credit: Facebook)
The Uttarakhand government has assigned Additional Secretary Information and Director General Information IAS Ranbir Singh Chauhan. In March itself, Dr. Meherban Singh Bisht was released from the post and IAS Ranbir Singh Chauhan was appointed. Director General of Information Ranveer Singh Chauhan is also taking on additional responsibilities of Additional Secretary Transport, Language, Secretary Hindi Academy, Director Language Institute, Managing Director and Vice Chairman MDDA of Uttarakhand Transport Corporation. Prime Minister Modi has spoken to CM Tirath Singh Rawat about the situation in Kovid-19 in Uttarakhand.
Senior Secretary to the Government of Uttarakhand and 2009 batch IAS Ranbir Singh Chauhan is also recognized as a social media in the state. In fact on your social media accounts you will see lions from Gulzar Saheb to Mirza Ghalib. He is also fond of Bollywood songs. He has posted several songs on Facebook with his own voice.
The veteran IAS officer is also doing research on Mirza Ghalib and he has also written a one and a half page letter to Mirza Ghalib. He wrote the best Nazmeh in Hindi, good poetry in Urdu and equally good at telling stories. It is said that Ranbir Singh Chauhan was taken to Lucknow by his parents when he was three years old.
At the moment, the whole of India is dealing with the Kovid-19 epidemic. In the hill state of Uttarakhand, efforts are being made to stem the rising tide of corona infection. In the wake of a growing number of cases of coronavirus infection, Chief Minister Tirath Singh Rawat has decided to impose a strict covid curfew across the state from May 11 to 16. However, a record number of patients in Uttarakhand are recovering by beating Kovid.
At the same time, the Covid vaccine campaign has been launched across the state for people between the ages of 18 and 44. At the same time, on the instructions of Chief Minister Tirath Singh Rawat, arrangements are being made to vaccinate journalists in the state separately. Recently, Director General of Information Ranveer Singh Chauhan held a meeting with the officials of the Information Department through virtual media and directed them to reach out to all possible help by mentioning the role of media in public awareness. He said that journalists were constantly working in the field to inform the public about the corona. In such a situation, they are also becoming victims of infection. He instructed the department to assist infected journalists.
Free vaccinations for people aged 18 to 44
On Monday, Chief Minister Tirath Singh Rawat launched a campaign to vaccinate people aged 18 to 44 in Uttarakhand. Inaugurating the vaccine at Radha Swami Satsang Nias on the Haridwar Bypass Road in the capital Dehradun, Chief Minister Rawat said Uttarakhand was the first state in the country where the vaccine was announced free of cost. He said 5 million people in the state would be vaccinated against covid at this age. The Chief Minister said that in Uttarakhand, the first free vaccination was announced in 18 to 44 years and the state government would spend Rs 400 crore on it.
Uttarakhand Police 'Mission Encouragement'
In Uttarakhand, the state police has launched 'Mission Housela' to help people in need of bed, oxygen, ventilator, plasma and medicine in the wake of the growing corona infection. State Director General of Police Ashok Kumar said Kovid patients are on the rise everywhere, there is a shortage of beds, oxygen and ventilators and in such a situation drugs, oxygen, plasma, rations etc. are being provided to stop their black marketing and hoardings. For this, the state police will try under 'Mission House'.
He said that Uttarakhand Police would operate through 112 State Emergency Call Centers, Kovid Control Room established in each district headquarters and 1,160 Uttarakhand Police Thanas through nodal centers on the basis of calls received for this purpose. Tehri Senior Superintendent of Police Tripi Bhatt writes that Uttarakhand Police is continuing its efforts to provide humanitarian services in the Corona War under the name 'Mission House'.
Two Covid hospitals will be ready by June 15
With the help of DRDO, two temporary Covid hospitals with 500-500 beds will be ready by June 15 at Haldwani in Kumaon region of Uttarakhand and Ishikesh in Garhwal region. One of these hospitals will be built on the campus of Haldivan Medical College, it will be run by Sushil Tiwari Hospital, and the hospital built by IDPL ishshikesh will be run by Amesishikesh. The temporary hospital at Halwani will have 400 oxygen beds and 100 ICU beds and IDPL Ikshikesh will have 500 oxygen supported beds.
Virtual OPD and telemedicine services
The 'Doctor at Your Doorstep' service has been launched by the Uttarakhand Health Department in the wake of the growing corona infection. The state government has started this initiative so that people living in remote areas of the state can seek health advice from specialist doctors from their homes. The main purpose of this service is to provide treatment advice to patients living at home isolated due to coronary infections. This virtual facility of the state government can be availed through WhatsApp video call and toll free helpline. The state government has issued 104 toll free numbers for this. Through this, the public can also get the service through the WhatsApp number 9412080622. Virtual OPD will run daily from 9am to 5pm.