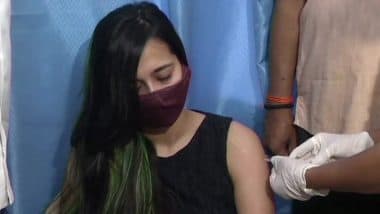 Photo credit: ANI
New Delhi: The pace of coronavirus in India has slowed down a bit in the last few days, although the situation remains catastrophic. Nevertheless, more than 180 million doses of the Covid-19 vaccine have been given in the third phase. Meanwhile, two of the country's top physicians have made a very important statement about the coronary vaccination strategy.
AIIMS director Dr Randeep Guleria said there would always be a shortage of vaccines globally and nationally. Probably a lot of vaccines will be available in two months as vaccine companies will start opening their own production plants and we will also get this vaccine from outside.
"We can't vaccinate everyone in a month or two or a month," Guleria said. So I think we should make an appointment to vaccinate young people after 2, 3 or 4 months, make a strategy. More and more people can be vaccinated according to the vaccination strategy. " Dr Reddy expects to receive 36 million doses of the Sputnik vaccine in two months
"As part of the vaccine strategy, we need to ensure good health infrastructure and proper covid behavior," he said. He was initially in favor of introducing this vaccine to the elderly and those suffering from any disease.
We can't vaccinate everyone in a month or two or a month. So, I think we should develop a recruitment strategy for the younger group after 2, 3 or 4 months and gradually work on a strategy to get more people vaccinated: Dr. Randeep Guleria

– ANI (@ANI) May 15, 2121
At the same time, the chairman of Medanta Hospital, Dr. Naresh Trihan, said that it was not right to panic about the vaccine at present. "I think where corona hotspots should be vaccinated within six weeks, but where cases are declining, the time between doses can be increased," he said.
So far only two vaccines are being used in the country. Covshield is being used mainly by India Biotech's Covacin and Serum Institute of India. Where Dr. Reddy's Lab launched the Sputnik V vaccine in the Indian market on Friday. The Sputnik V vaccine has been approved in India. Russia's Sputnik V next to the Kovid-1p epidemic will be available in markets across the country early next week, the Union Ministry of Health announced on Thursday. The announcement comes 12 days after the first shipment of 150,000 doses of the Sputnik V vaccine from Russia to Hyderabad.
People need to isolate themselves as the symptoms develop. Most people with a cough, runny nose, sore throat or fever are positive. They should isolate themselves immediately. So that others can be protected: Dr. Naresh Trihan, Chairman, Medanta# COVID-19 pic.twitter.com/d0FjjJVsBz

– ANI (@ANI) May 15, 2121
Sputnik V has been developed by the Gamalaya National Center in Russia. This will be the third vaccine to be used in India at a time when the country is in the grip of a second wave, which is quite dangerous. The demand for vaccines in India has already increased significantly. The central government said on Thursday that more than two billion vaccines would be available in the country in the five-month period from August to December 2021, which would be enough for the entire population to receive the vaccine.