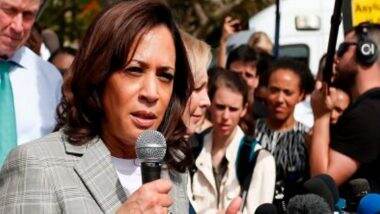 Orange Harris (Photo Credit: Twitter)
U.S. Vice President Kamala Harris says the Biden administration is committed to helping India in this time of need because of the rapidly growing case of Covid-19 and the resulting large number of deaths. This is determined because its welfare is important to the United States. Describing the rapid rise of Kovid-19 in India and the resulting large number of deaths, he said that the entire Biden administration was motivated to help India in its fight against the epidemic. "India sent aid when our hospital beds began to dwindle at the beginning of the epidemic. Today, we are committed to helping India in its time of need," Harris said at the State Department's overseas communications program on behalf of India on Friday. Read more – US Vice President Kamala Harris has telephoned WHO chief Tedros Adhanom.
"Friends of India, we are helping this as a member of the Asian Quad and part of the world community," he said. I believe that if we can continue to work together in different countries and regions – we will get out of this situation. "Biden – Harris Prashan has announced 100 million in aid to India in the fight against the Covid-19 epidemic. In the past week, six Covid-19 support planes have arrived in India from the United States. The relief provided is unprecedented for any country.
Indian Americans are raising millions of dollars and sending life-saving medical equipment and drugs to India. Seba International USA has raised more than $ 1 billion, the American Association of Physicians of Indian Origin has arranged ৩ 35 million and Indiaspora has provided $ 2 million.
"Over the years, immigrant organizations like Indiaspora and the American India Foundation have built bridges between the United States and India. Last year you made a major contribution to the Covid-19 relief effort. Thank you for your work," he said. My family was born and raised in India, my family still lives in India, and India's welfare is important to America.
"The Covid-19 infection and mortality rate in India is heartbreaking," Harris said. My deepest condolences to those who lost their loved ones. As soon as this form of nature was revealed, our administration took practical action.