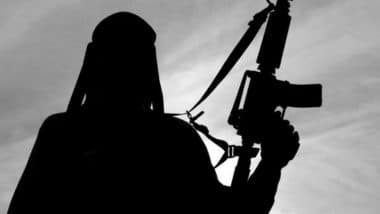 Icon (photo credit: file image)
New Delhi / Washington: The anti-India 'Friends of Kashmir' group in the United States has been reportedly actively involved with banned Islamic terrorist groups and the Pakistani government. Sam Westrop and Martha Lee of the Mid East Forum (MF) are widely known in America for their petty journalistic investigations. He is a member of the Pakistani regime and has sought an alliance between the Friends of Kashmir, a Texas-based group called the US Congress. The authors of their joint investigation, especially when contacted by IANS, discovered how the Pakistani agency exerted its influence in Kashmir through its terrorist groups, its expatriates and various fronts and lobbies in the United States. Terrorist attack: Terrorist attack on army road opening party in Kashmir, 1 army martyred, whole area sealed off to catch terrorists
On August 5, 2020, a friend of Kashmir and its head – a pro-Pakistan activist, writer and self-described poet named Ghazala Habib – organized an online discussion on Kashmir in collaboration with the Pakistani embassy and its consulate in Houston, Westrop. And Lee mentioned in his detailed report.
Speakers at the webinar included two vice-presidents of the Pakistan Caucus in the US Congress, the president of Pakistan-administered Kashmir and the Pakistani ambassador to the United States, and the consul general in Houston. Other speakers included Congressman Eddie Bernice Johnson, along with Texas State MLA Ron Reynolds and Terry Meja.
The webinar was organized on August 5, 2019 to write a history of Pakistan's campaign against India led by Prime Minister Imran Khan after the Modi government brought the states of Jammu and Kashmir on par with other Indian states.
The webinar, aired on social media and on the American Pakistani television channel TV One USA, was attended by representatives of the Congressional Caucus, Jim Banks and Sheila Jackson Lee. Even Banks, who is an outspoken critic of South Asian Islamist groups, the Pakistani media tried to project him as a supporter of "Kashmir's friend".
"There are also offices in Islamabad and Karachi. Friends of Kashmir describe themselves as a US-based 'international non-political organization' that focuses on Kashmir. Their activities are part of close cooperation with the Pakistani government," Westrop and Lee said. "
During the webinar, Ghazala Habib thanked the government of Pakistan for opening the doors of the consulate for us 24/7 and called it 'our first home'.
In fact, Habib is close to President Masood Khan, Westrop and Lee said in their report. Habib not only represents the interests of the Pakistani government, he is also supported by prominent Kashmiri terrorist operatives. Leaders of the Kashmiri Hurriyat political alliance, including Ali Gilani and Asiya Andarbi, appointed Ghazala Habib as their representative.
Gilani is a notorious Kashmiri separatist who served as the "head of jihad" of the now-banned branch of the Jamaat-e-Islami in Jammu and Kashmir. Meanwhile, Anderby founded the banned organization Dukhtaran-i-Millat (Daughter of the Nation), which The Economist notes, 'supports terrorists' and supports jihad. "If you belong to Sheikh Osama al-Qaeda, you will be most welcome, because he was the legitimate leader of jihad," Andarbi said, embracing al-Qaeda officials.
In February 2017, the Texas Group hosted a conference where Andarabi spoke at length with terrorist activists such as Andarabi Yasin Malik and Shabir Shah, both of whom were arrested in 2019 by Indian law enforcement. . Malik was seen apparently visiting the Lashkar-e-Taiba (LeT) camp in the heart of Pakistan-occupied Kashmir and addressing Lashkar-e-Taiba personnel there.
According to Shah, he was "in touch with Hafiz Saeed, the main global terrorist of the Pakistan-based banned organization Jamaat-ud-Dawa, and was reportedly" funded to carry out separatist activities in Jammu and Kashmir. "
In January 2021, a friend and friend of Kashmir, Habib Malik, staged a demonstration in support of Shah and Andarbi, referring to the violent extremists as 'heroes' and 'Kashmiri leaders'. Despite his links to terrorists, Habib claimed in an interview that "the United States already has moral support" from a number of senators, congressmen and influential people in the business community.
Habib was far from the only speaker involved in terrorism who shared a platform with many members of the United States Congress. Star Speaker Rifat Oni is a Kashmiri activist who is being investigated by the Jammu and Kashmir Police. One regularly expresses support for terrorists on social media. He described the late, notorious Kashmiri terrorist Burhan Wani as "one of the instigators of others to oppose the occupation". Burhan was the commander of the terrorist organization Hizbul Mujahideen, which successfully persuaded young Kashmiris to 'join the holy war'. In fact, Rifat Oni is often seen paying homage to 'mujahideen' killed in violent clashes with Indian law enforcement, such as praising the notorious terrorist operator Riaz Naik's 'martyrdom'.