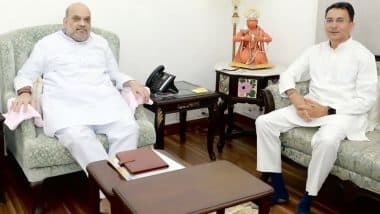 After joining the BJP, Jitin Prasad met the Home Minister (Photo Credit: Twitter)
Lucknow: In Uttar Pradesh, the Congress has suffered a great loss ahead of the forthcoming Assembly elections. Former Union Minister and Youth Congress leader Jitin Prasad joined the BJP on Wednesday. It is being seen as a big push for the Congress ahead of the Uttar Pradesh Assembly elections. Reservation in private sector in Haryana has insulted the youth of UP, Bihar and Bengal: Jitin Prasad
Jyotiraditya Scindia has expressed happiness over Jitin Prasad joining the BJP, while Uttar Pradesh CM Yogi Adityanath tweeted that his arrival would strengthen the party in UP. He tweeted and said, "Welcome Jitin Prasad GK to leave the Congress and join the BJP's larger family. Jitin Prasad Zia's joining the Bharatiya Janata Party will definitely strengthen the party in Uttar Pradesh."
It is learned that Jitin Prasad is the son of veteran Congress leader Jitendra Prasad, who has held many important posts in the party. Jitin Prasad was close to Rahul Gandhi. However, there were 23 leaders in the Congress who wrote a letter to party president Sonia Gandhi last year demanding active leadership and organizational elections.
Delhi: After joining the BJP, Jitin Prasad met BJP national president JP Naddar. Union Minister Piyush Goel was also present with him at the time. https://t.co/hgczYDT2WZ pic.twitter.com/33hkZJrNaJ

– ANI_Hindinews (@ahamedainnews) June 9, 2021
Regarding the controversy surrounding the letter, the Congress committee of Lakhimpur Kheri district in Uttar Pradesh passed a resolution demanding action against him, which also caused controversy. Though dissatisfied, he was given the task of campaigning for the Congress in West Bengal, which turned into despair. Taking a stand against the party, he opposed the Congress alliance with the Indian Secular Front (ISF) in West Bengal.
I am overwhelmed by your love and belonging. In the future, the country's successful Prime Minister Shri Narendra Modi, National President Shri J.P. Nadda, I will do my best to live up to the trust that you and the BJP family have placed in me. Amit Shah https://t.co/gy9BY2bag4

– Jitin Prasad Jitin Prasad (JitinPrasad) June 9, 2021
Jitin Prasad Ko Jitin, who established himself as the big Brahmin face of the Congress in Uttar Pradesh, won the Lok Sabha elections for the first time from Shahjahanpur in 2004 and was appointed Minister of State for Steel in the United Progressive Alliance (UPA). ) The government was formed under the leadership of Prime Minister Manmohan Singh. Then, in 2009, he won the Dhaurahar seat. Subsequently, he took over as Minister of State for Petroleum and Natural Gas, Road Transport and Highways and Human Resource Development in the UPA government.
Jitin Prasad wants to join BJP, his future

It was here (in Congress). However, his departure is not good because his father was already in the Congress, yet he made that decision. pic.twitter.com/aFHzaCAwUw

– ANI_Hindinews (@ahamedainnews) June 9, 2021
Prasad had to face defeat in the 2014 Lok Sabha elections. After that, he tried his hand from Tilhar seat in the last assembly election, but he was also disappointed. He also had to face defeat from Dhaurahra in the 2012 Lok Sabha elections.
It is believed that a large section of Brahmins are angry against the BJP in Uttar Pradesh. This dissatisfaction is being expressed especially from Chief Minister Yogi Adityanath. In such a situation, Jitin Prasad's joining the BJP is sending a good message to the Brahmins.
His father Jitendra Prasad is a prominent 'Brahmin' face from Uttar Pradesh who challenged Sonia Gandhi's leadership in 1999 and contested against her for the post of party chief. He died in 2002. (With agency input)