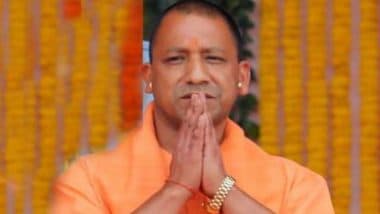 CM Yogi Adityanath (Photo credit: IANS)
Lucknow: Coronavirus infection is on the rise in Uttar Pradesh. Many leaders have lost their lives when this JD came. Now, three-time BJP MLA Bahadur Kori Kobed-19 has died from the Salon assembly constituency in Rae Bareli due to the wrist of the epidemic. Lucknow West Assembly constituency BJP MLA Suresh Srivastava dies from COVD-19, Defense Minister Rajnath Singh tweeted
Giving information about the death of BJP leader Dal Bahadur Kori, Union Minister Smriti Irani tweeted and said, "Salon assembly constituency MLA, senior BJP leader Dal Bahadur Kori ji passed away this morning. Agreeing to serve the poor and deprived was the main mantra of his life. His departure is a great loss to me personally and to the BJP Amethi family. May God give his family courage and strength in this time of sorrow. Pray this kind of prayer at the feet of Lord Dal Bahadur Jit. "Peace." Uttar Pradesh: BJP MLA Kosar Singh Ganguly dies of corona infection, three-party MLA dies after Kovid-19
His departure for me personally and 4 BJP 4 Amethi This is a big loss for the family. May God give his family courage and strength in this time of sorrow. Pray at the feet of Lord Dal Bahadur Jit. Peace

– Smriti Z Irani (SmritiRini) May 7, 2021
He was admitted to the Apollo Hospital in Lucknow for treatment after contracting the corona. However, his condition worsened and Corey died late Thursday night. He was in a coma for several days.
According to sources, Dal Bahadur Corey, MLA of Salyan Assembly constituency in Roy Barli, was once the state minister for social welfare. On the other hand, there is an atmosphere of mourning in the area after receiving the news of the death of the assembly party Bahadur Kori. Team workers and leaders are arriving at their homes.
CM Yogi Adityanath mourns-
The death of BJP MLA Mr. Dal Bahadur Corey from Saloon's Roy Bireli is very sad.

Lord Rama was requested to place the disembodied soul at his feet and give strength to the bereaved family to bear this grief.

Om Shanti

– Yogi Adityanath (Mayogyadityanath) May 7, 2021
Before Dal Bahadur Kori, Suresh Srivastava of Lucknow West, BJP MLA Ramesh Diwakar of Auraiya and Keshar Singh Gangowar of Nawabganj in Berili died of corona virus.