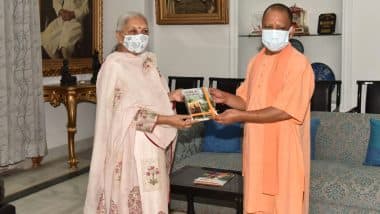 CM Yogi meets Governor Anandiben Patel (Photo Credit: ANI)
Uttar Pradesh Chief Minister Yogi Adityanath (CM Yogi Adityanath) met Governor Anandiben Patel on Thursday. In the evening, the chief minister met the governor, a statement from the palace said. The statement said it was a courtesy call, but the meeting was being linked to the possibility of expanding the UP cabinet. In fact, many posts in the state cabinet have become vacant due to the deaths of cabinet ministers Chetan Chauhan and Arun Kumar Corey and other reasons. In such a scenario, it is speculated that the cabinet may soon be expanded to create a political equation in the run-up to the 2022 Uttar Pradesh Assembly elections. Read more- Uttar Pradesh: Government employees cannot go on strike for 6 months, ESMA has implemented.
Discussions are going on in the political corridors that Uttar Pradesh Deputy Chief Minister Keshab Prasad Maurya may be re-appointed as the state president of the BJP. At the same time, there is speculation that bureaucrat MLC Arvind Kumar Sharma will be made the Deputy Chief Minister. AK Sharma joined the BJP in January this year and became a member of the UP Legislative Assembly. Sharma is considered close and trusted by Prime Minister Narendra Modi. Recently, there was also a meeting between CM Yogi Adityanath and Ake Sharma. After which the rumors of reshuffle in the UP cabinet started.
CM Yogi Adityanath met Governor Anandiben Patel
Uttar Pradesh Chief Minister Yogi Adityanath today met Governor Anandiben Patel and discussed the cowardly situation in the state. He presented a book to the governor. pic.twitter.com/jRHT6gDUlw

– ANI UP (@ININUSUP) 27, 2021
There is also talk that AK Sharma could be included in the cabinet and given charge of a larger department. But there seems to be a big difference between the names of CM Yogi Adityanath and who will be removed from the cabinet and who will be included in these names. "But two ministers could be included in the cabinet," a BJP official said.